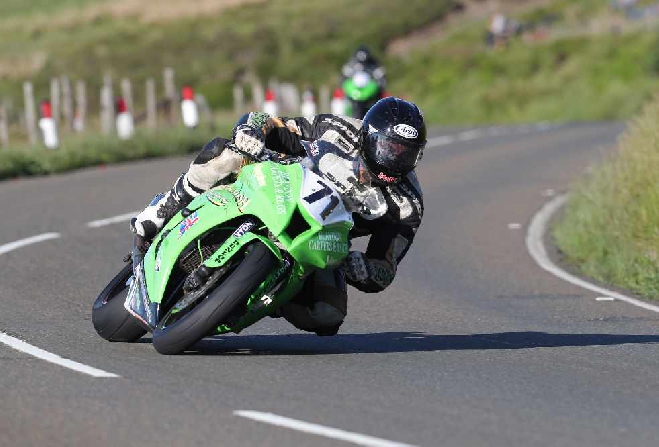 Gateshead rider had multiple injuries.
TT competitor Davey Lambert who was seriously injured in Sunday's Superbike race (3 June), has lost his fight for life, his family has confirmed.
The rider died on Tuesday night in a Liverpool hospital, surrounded by family and close friends, having succumbed to critical injuries.
The Gateshead man started the opening race of TT 2017 at number 71. He crashed near Greeba Castle during the third lap, and was treated at the scene until the race finished, when he was taken to Noble's hospital.
He was subsequently transferred to Aintree University Hospital.
A tribute to Davey was posted on social media by his family, who said 'he went out of this world in exactly the way he would have wanted, doing what he loved'.
They said they were 'eternally grateful' for the care he had received from 'amazing' doctors and nurses at the scene, at Noble's, and in Liverpool.
Race organizers say their decision to treat Davey at the scene was made on medical advice.
STATEMENT ISSUED ON BEHALF OF ACU EVENTS LTD

ACU Events Ltd regrets to announce that Davey Lambert, 48, from Gateshead, in Tyne and Wear, died this evening following injuries sustained during the Superbike race on Sunday 4th June 2017 at the Isle of Man TT Races.

Davey had an accident at Greeba Castle on the third lap of the race and was treated at the scene before being taken by airmed to Nobles Hospital. He was subsequently transferred to Aintree Hospital in Liverpool where he passed away this evening.

Davey made his mountain course debut at the Manx Grand Prix in 2014, finishing fourth in the Newcomers A race and 24th in the Junior Manx Grand Prix of the same year. He returned to the Manx Grand Prix in 2015 and recorded 9th and 11th place finishes in the Junior and Senior MGP respectively and was 8th in last year's Senior MGP Race.

ACU Events Ltd wishes to pass on their deepest sympathy to his partner Tracey, his family and friends.