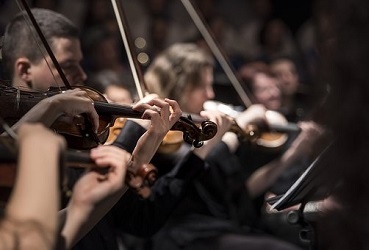 Berlioz: Hungarian March from 'The Damnation of Faust'. Hungarian State Orchestra, cond. Matyas Antal.
Amy Beach: Romance for violin and piano. Elena Urioste, violin; Michael Brown, piano.
Bach: Motette 'Singet dem Herrn'. Kammerchor Stuttgart, dir. Frieder Bernius.
Mozart: Church Sonata in C major, K. 336. Christoph Lehmann, organ, Collegium Cartusianum, dir. Peter Neumann.
Delius: 'A Song Before Sunrise', for small orchestra. RPO, cond. Christopher Seaman.
Jeno Hubay: Hejre Kati. Ferenc Balogh, violin; HSO cond. Matyas Antal.
Charles Williams: 'The Devil's Galop'. NLO, cond. Ronald Corp.
Mozart: Serenade for wind in Eb major, K. 375, (sextet version) Adagio. Nachtmusique, dir. Eric Hoeprich.
Elgar: 'Carissima'. NLO, cond. Ronald Corp.
Anthony Collins: 'Vanity Fair'. NLO, cond. Ronald Corp.