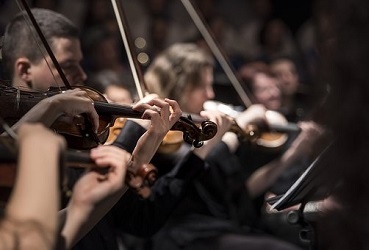 Verdi: Overture, 'The Sicilian Vespers'. NPO, cond. James Levine.

Blitzstein and Sondheim: 'Never Get Lost' and 'Take Me to the World'. Dawn Upshaw, soprano, from the compilation 'I Wish it So'.

Edward German: Waltz from 'Tom Jones'.

Richard Strauss: Allegro moderato from the Duet-Concertino for clarinet, bassoon, strings and harp. Soloists of the New Stockholm Chamber Orchestra, cond. Esa-Pekka Salonen.

Percy Grainger: 'Seventeen Come Sunday'. The Monteverdi Choir, cond. John Eliot Gardiner.

J. S. Bach: Largo ma non troppo from the concerto in D minor for two violins. Andrew Manze and Rachel Podger, violins. AAM dir. Andrew Manze.

Gounod: 'Repentir' : 'O Divine Redeemer' from 'Redemption'. Elina Garnača, mezzo-soprano, Latvian Radio Choir, cond. Karel Mark Chichon.

Beethoven: Rondino for wind octet. Consortium Classicum.

Ronald Binge: 'Elizabethan Serenade'.