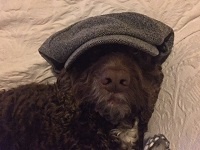 It was a Duxford Diaries kinda day today! The furry fella has been out for adventures around Peel again, with his trusty sidekick Chris Williams in tow. This week they were out exploring the railway line from Peel to St Johns - and we were even treated to a poetry recital!
Keeping with the transport theme, Ben's Watch of the Weekend included a programme about steam trains, a documentary about new superstar of screen and stage Sheridan Smith and a look ahead to the new series of Poldark.
And love it or loathe it, it's Eurovision this weekend, so we themed the show with some of the competition's biggest hits - and Mrs Yorkshire the Baking Bard penned a suitably witty poem for us all about it!
And we completed this weekend's Moghrey Jedoonee Challenge, finding out all about the Ports (and Fort) of the Island.
If you missed any part of today's programme you can listen again at this link for the next 7 days. Tomorrow, we're live from Dalby for another VIllage Halls programme, hope you can join us from 2pm!