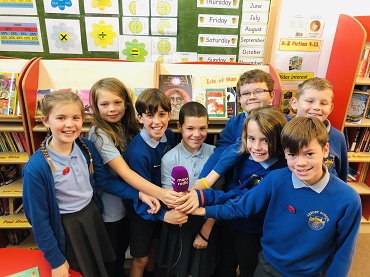 The children from Arbory School - Aemilia, Darcey, Jonas, Fynlo, Brian, Matthew, Sonny and Stanley - taught us Manx words with a theme of Fruit and Vegetables, introduced by Head Teacher Jonathan Ayres.
How many would you know?:
While Christy was visiting the school she also managed to record the children from Year 2 singing Buinneyder Mooar or 'Big Red Combine Harvester'
and the talented young Stanley Cubbon revealed his ability for impersonating one of our best loved TT commentators...watch out Roy, he's coming for your job (at speeds approaching 100 miles an hour!) ;-)
If you want to recommend a school, youth group (or grown up group!) to feature in our Manx Words of the Day series, email latelunch@manxradio.com, we'd love to hear from you.