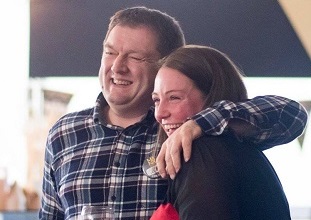 Christy spends on hour on the Conister Rock sharing memories and music with John and Emma Quirk, the husband and wife team behind Manx Litfest, one of the Island's biggest events in the cultural calendar.
They chatted about Manx Connections, about changing life circumstances, about their love of the Island and its community, about the importance of libraries and reading with children - and about giant beasts in movies...no, really!
Find out more about the festival, the team and this year's events on the website here.
If you missed any part of today's programme you can listen again at this link for the next 7 days, it will then be loaded on our Podcast page along with our previous Conister Rocks guests. In the meantime, you can also watch a clip of the programme below.