#MRWomenToday listen again: a bit of Christmas bling with Corlett's and Melano
On the programme today: -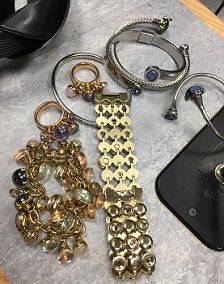 we were joined in the studio by Pauline Corlett from family business G H Corlett the Jewellers, which has been adorning the local population with trinkets, rings, watches and bracelets for more than 180 years; we found out a little about the history of the firm - which actually started in Castletown in 1835 with imported clocks - and talked about the very personal service they are able to provide.
We also met Micheline Graham, who is on the Island for today's launch at Corlett's of new jewellery brand 'Melano', a unique range of silver, gold, ceramic and stainless steel pieces which you can change to match your mood and style by switching the stones, combining the pendants and rings. To find out more visit the Melano website or see Corlett's event page here
- we also spoke about the dangers of live stream sites for young people, as investigators warn that they are increasingly being used to groom and abuse children. Parents are now being told to discuss online safety with their children. We spoke to the Isle of Man Constabulary about the issues, and had this statement from DC Stuart McLean, the Force's lead on Child Sexual Exploitation: - "Social media and mobile phone Apps are common platforms used by perpetrators to groom and exploit young people. Its important for parents, professionals and children to remain vigilant and up-to-date with the introduction of new apps and their capabilities to keep young people safe and to prevent them coming to harm. Police have been working closely with our partner agencies to ensure we best protect our young people by ensuring all of the Constables and Sergeants in the Force are trained in Child Sexual Exploitation awareness. Furthermore Police have carried out Child Sexual Exploitation roadshows at schools for parents, teachers and young people to provide them with better awareness around this topic across the board. Every effort is made to keep children on the Isle of Man safe however there will always be adults, locally or elsewhere in the world, who will look to exploit their vulnerabilities."
- we talked about the encouraging news story - following on from our chat with Bill Dale the founder of Beach Buddies yesterday - that the United Nations have today agreed on a resolution stating that the world needs to completely stop plastic waste from entering the oceans.
- and we spoke with Rachel Lloyd, relationship expert for EHarmony, who told us that in the next 25 years it's expected that 4 out of 5 of us will find love online; and that goes for so-called "Silver Singles", too, as the average age for those using digital dating sites is set to increase so that, by 2050, the proportion of singles aged 65-85 meeting people online could be as high as 78%.. Rachel spoke about the findings and future of online dating, and also gave us some great tips and hints for how to make our profiles attractive to potential partners
If you missed the programme you can listen again for the next 7 days at this link.