#MRWomenToday listen again: award winning young poets and a heartfelt fundraiser
On the programme today:-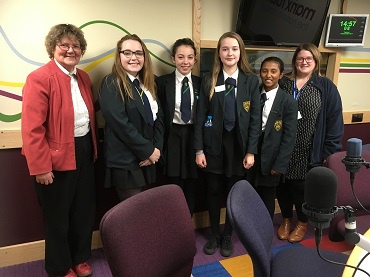 - we were joined in the studio by Rosemary Clarke, retiring Director of the One World Centre, who talked to us about her time in the role which comes to an end next Thursday after 6 years. Rosemary has played a major part in many changes and developments on the Island, such as the Global Village and the Island's Fair Trade status. She told us what moments have really stood out for her in her time, and what is next for her (it seems that retirement certainly won't mean a quiet life for Rosemary!). The Centre is still on the look out for a replacement for Rosemary – if you think this could be a position for you, contact the centre via their website here
- we were also joined by four young women from Ballakermeen High School, Graihagh, Grace, Francesca and Ann Mary, the winners of this year's One World Centre Poetry Slam, who performed their award winning entry 'HerStory' and told us – very eloquently – what they learned from the experience and what issues young women have in the world today. You can read the poem below;
- and Beth spoke to Gary Crompton, who came in to talk about a fundraising night he has organised for next Tuesday. Gary has been inspired to raise money for the Jane Crookall, SCBU and Isle of Man Breast Care, following the 'wonderful care' they have provided his sister, who recently found out she has Stage 3 Breast Cancer and is also 26 weeks pregnant. Gary has also set up a JustGiving 'BucketList' page for Heather, who has been given a 5 year life expectancy, and you can find that here.
You can find all the details here about Gary's charity event, which has 4 local bands performing, there will be a sponsored head shave and a charity auction with some fabulous prizes – including a chance to win a single male! You can get tickets from Gary at 21 Stanley Road in Peel or by calling him on 848015
- and we asked you what are the best board games to play at Christmas? If you tune in on Friday, you may hear us playing some of them...
If you missed the programme, you can listen again for the next 7 days at this link
"Her Story" - by BHS students Graihagh, Francesca, Grace, Ann Mary and Dylan
History- his story. His. As in not women or others. Men. Let's talk about HERstory.
They say feminism is a thing of the past,
But they don't know the whole story.
A girl wanted to learn but they shot her with one blast
And just stood there in glory.

Millions across the globe have no education,
Millions experience sexism across the nation.
We can't join in the boys race,
Because they said they have a "faster pace".

A girl would die for a life like you,
And you're not grateful too?
Be thankful for what you have,
We live a better life than they ever can.

There are still places where girl's learning
Leads to a death sentence
But abusing you wife gains social acceptance
Young girls get married early and are at risk of being abused
Yet they say it doesn't matter because it's not on the news

Women need education,
Women needs rights
And we are most definitely going to fight