#MRWomenToday listen again: Conister Rocks special, Christine Collister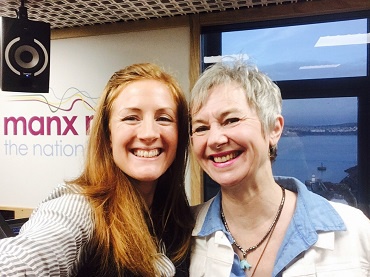 On the programme today, Christy was joined by critically acclaimed singer songwriter Christine Collister, who shared her music and memories over the course of the hour.
From her early years growing up in a hotel on Douglas Promenade and performing for the visitors, to moving to Manchester and - quite literally - bumping into George Michael, to touring the world with Richard Thompson and partnering with Clive Gregson; she talked about collaborating with everyone from Davy Knowles to Daphne's Flight, shared her writing process and some of her influences and even revealed what it was like to sing to a door while working in late night radio..
And, as you might expect, her music choices were wonderful.
If you missed the programme, you can listen again at this link for the next 7 days. To find out more about Christine's work and touring, visit her website here.
Pictured below: Christine with Michael Fix; Christine with the wonderful women of Daphne's Flight.