#MRWomenToday listen again: Down on the Farm, and Vision Awareness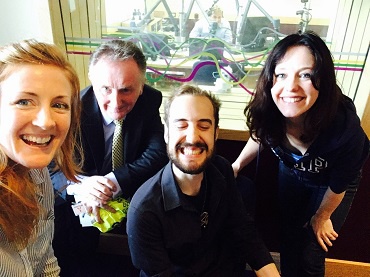 On the programme today:
- we had a fascinating and enlightening chat with - Chief Executive of the Manx Blind Welfare Society Ian Cooil, along with Juan Greggor who is registered blind and who brought his beautiful guide dog Angel in with him. You can find out all about the Society, about Vision Awareness Week and the events they have on by visiting their Facebook page. You can also find out about and support fundraising for guide dogs by visiting this page, or email Karen.Callin@manx.net
Also, don't forget you can purchase copies of CD featuring Kathleen Killip's tales and stories, recorded by Ian Cottier and previously covered on Women Today, with all proceeds going to the charity. Find out more about it at this link, pick up a copy directly from the VIP store in Douglas, call 674727, or email dthomson@mbws.org.im.
- also today, we had the first of our Isle of Man Food Festival interviews, as Christy went to multi-award winning Close Leece Farm to meet with lawyer-turned-pig-farmer Tracey Ridgeway and her many animals. Pictures below (too much ginger?!) and video to follow...
If you missed the programme, you can listen again at this link for the next 7 days. Tomorrow, we'll be finding out about the way of the Shaman.. tune in from 2pm!