#MRWomenToday listen again: Eloise White, animator and Sayle Gallery artist in residence
On the programme today:-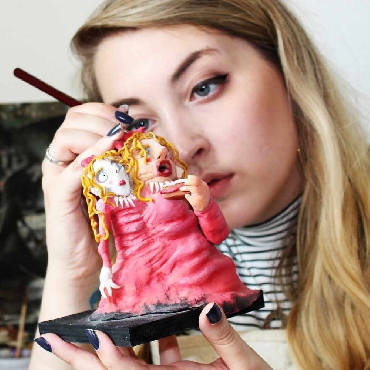 - John McEnroe says male tennis players are considerably better players than women, as he says that if Serena Williams were to play on the men's circuit she would struggle to be in the top 700; we asked for your thoughts, and they were very interesting!
- we found out about a brilliantly innovative new way to encourage (and even recruit) new talent into the world of engineering, as Gorillaz collaborate with Jaguar Landrover to launch an augmented reality game app; interested applicants can download the Gorillaz App now at the iTunes App Store or Google Play; to find out more about Jaguar Land Rover recruitment, go to www.jaguarlandrovercareers.com.
- Howard Caine made the most of the rain, as he went Wild in the wet stuff;
- and we were joined in the studio by Eloise White, whose exhibition 'A Happy Medium' deals very powerfully with her own personal struggles with mental health. Animator and artist in residence at the Sayle Gallery since August 2016, Eloise stayed behind after the programme to talk - among other things - about the inspiration she received from fellow local artist Simon Buttimore, who she sadly didn't meet before he passed away, but who has nevertheless brought her encouragement and continued passion for her work. You can listen to that exclusive extra content via our podcast page here. You can see Eloise's exhibition, including her residency project, the short film 'A Happy Medium, at the gallery from now until 23rd July and you can find Eloise online via her blog and Vimeo pages. Below are just a few examples of Eloise's work, along with the animation lighting stage she created herself and on which she produced the residency film.
If you missed the show, you can listen again at this link for the next 7 days