#MRWomenToday listen again: influential young Manx women & Christmas 2.0
On the programme today: -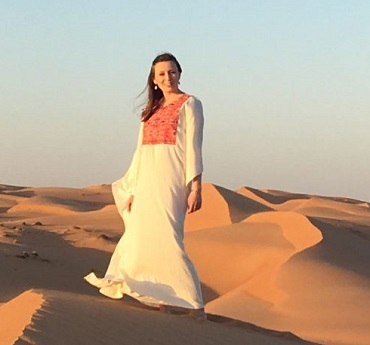 - we were joined in the studio by one of last weekend's TedX Douglas speakers, the remarkable young Manx woman Laura Cretney. Laura is Director of Al Ishara Consulting, a political and regional consultancy which provides expertise for companies with an interest in the Middle East; she is also founding editor of the blog Pink Jinn which "tells stories, unravels misconceptions and celebrates the beauty of the Middle East and North Africa." We spent a fascinating and educational hour in her company, in which she talked about her work, about what (and who) motivates and inspires her and about the realities of living in Oman, both for herself as a Western woman but also for the resident population. She dispelled many myths and quashed much of the negative preconceptions that are so prevalent in the Western world about the Middle East.
- we spoke to futurologists futurologists Dr Morgaine Gaye and William Higham who have been predicting that future festivities will be merry, bright and very, very different as technology pushes us towards Christmas 2.0 (3D printed turkeys anyone?!)
- we heard from Vlogger and Youtube sensation Beckii Flint – known as "Beckii Cruel" to her millions of fans worldwide – who has found herself in the House of Lords this past week, where she was invited to use her social media experience to advise the House on "influence marketing"
- and we spoke to Bob Harrison about some festive readings that he and ower Beth are involved with over the coming week; they will be reciting poetry and prose at the Henry Bloom Noble library tomorrow and at Milntown on Thursday – visit their Facebook page for details
If you missed the show, you can listen again at this link for the next 7 days.