#MRWomenToday listen again: Kristene Sutcliffe, Gemma Varnom and Emma Bowker
On the programme today,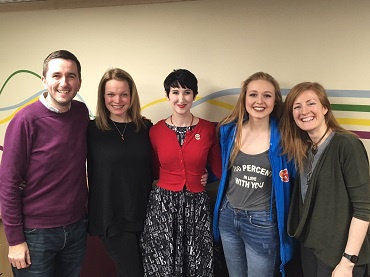 - we were joined in the studio by an Emma Bowker, Gemma Varnom and Kristene Sutcliffe who came in to tell us all about their production of '9 to 5' that is due to hit the Gaiety stage in just a matter of days - see the clip below; and you can find out all the details about the production via their facebook page, and the Villa Gaiety Website
- with just a few hours left to get your Valentines in the post, we got some tips on how to write love letters in the modern age; Christy spoke with Simon Garfield, the author of the "Modern Guide To Love Letters", and Royal Mail's Head of Campaigns Mark Street, to find out how we can put the Love back into our Letters. You can find Simon's new 25-point guide to writing the perfect love note at royalmail.com/valentinesday
...also today, as pop star and coach on The Voice, will.i.am, says sexism and inappropriate behaviour runs throughout the entertainment industry, we heard how he believes there's a simple way to combat it - by educating young people (and ourselves) about respect
...and it's Pancake Day! so we gave away a pancake kit..
Tomorrow, we'll be speaking with a neurologist about the science of love, and giving away a beautiful bouquet of flowers from Robinsons for one lucky Valentines winner.
In the meantime if you missed any part of today's show, you can go back and listen again here for the next days.