#MRWomenToday listen again: pearly whites and Kermode's kippers!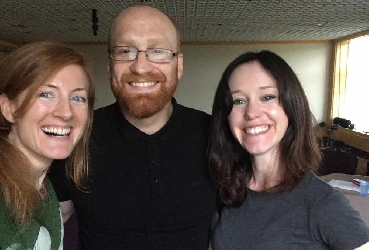 On the programme today: -
- we were joined by Dental Therapist and Hygienist Ben Davenport, who gave us all manner of hints and tips on how to keep our teeth and gums in top health;
- we also heard a wonderful 'kitchen conversation' between Isle of Man Film Festival patron Mark Kermode and his wife Linda Ruth Williams, both of whom also curate Shetland's Screenplay Festival; they chatted openly about the positives of small, Island festivals and their filmmaking communities, about how and why they got involved with both events, and argued about kippers...
- we asked you what the best movie of all time is - and your answers were varied and brilliant!
- and lots more :)
If you missed the show, you can listen again for the next 7 days at this link. We'll also be loading the full version of Mark and Linda's (pic below) conversation on to our podcast page later this evening. In the meantime, here are some of Steve Babb's wonderful photographs from the 2015 Film Festival, when Sir John Hurt joined Mark onstage, and of Mark's band the Dodge Brothers, performing a live soundtrack to the 1928 silent movie Beggars of Life.