#MRWomenToday listen again: recalling Suzy and John; horse tram recruits; Happy Anniversary Ma'am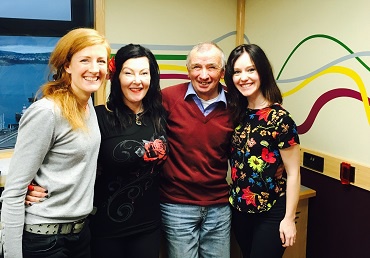 On #MRWomenToday this afternoon we paid tribute to the wonderful Suzy Richardson who died last Friday. She was much loved by her colleagues here at Manx Radio and also by the listeners to her afternoon show which included the Swap Shop. Suzy will be sadly missed and our condolences go out to all her family and friends.
November 20th would also have been the birthday of another much loved Manx Radio presenter. John Kennaugh passed away just over two years ago and this afternoon we took some time to remember him with the help of his brother Ned.
Ned Kennaugh is also one of the longest working horse tram drivers and he brought one of the newest recruits to meet us; and it transpires Susie Saunders is not your stereotypical driver, being a burlesque dancer amongst other things!
Also on the show today, on the 70th wedding anniversary of the Queen and Prince Philip - what is the secret to a happy relationship?
If you missed any of the programme you can listen again for the next seven days by clicking here.