#MRWomenToday: Shamans, rhubarb bubbles and boys in dresses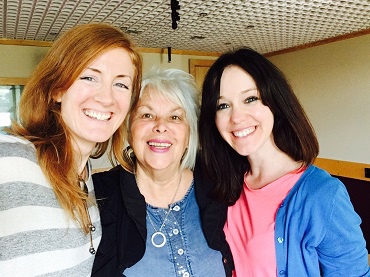 On the programme today:
- we met a real life Shaman! Canadian spiritual teacher Diana Allen, who is from Cherokee heritage, is running a workshop this weekend called 'Coming Home To the Heart' at Ballerghy in Union Mills. You are invited to join a small group for what is described as a "unique transformational experience of re-awakening your innate wisdom and increasing your heart connection...placing emphasis on the body, mind, emotion and spiritual connections...exploring ways to be in this world and not of it and strengthen your divine guidance connection."
If you are interested in joining call Greeba on 437284. You can find out more about the venue, Sprightly Health on their Facebook Page, and find out more about Diana on her website: www.dianallenshamanichealing.com or by emailing her directly : diana.allen138@gmail.com
- we also had the next in our series of Food-Festival interviews, as Christy went to Port Erin to meet with the people behind Foraging Vintners. You can hear the full interview with Mary-Beth Coll (picture below with Ian Swindells) on our podcast page here after 6pm.
- and we heard your varied and passionate thoughts on the controversial news story yesterday about the Christian family who have pulled both their children out of a faith school in a row over transgender dressing and who are also considering taking legal action after the primary allowed other boys to wear dresses.
If you missed the show, you can listen again at this link for the next 7 days. Tomorrow, we are joined again by Linda Hewitt and will be meeting the Ladies in Pigs. Join us from 2pm!