#MRWomenToday: thriller in the villa and pressures of exam results
On the programme today: -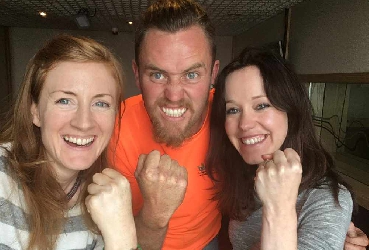 we were joined by Juan Callister who's going to be making an impact at this year's Thriller in the Villa; despite having never boxed before and only signing up three weeks ago..! If you want to support Juan, raising money for Hospice and Rebecca House, go to his JustGiving page here. The event is on the 7th September at the Villa Marina, there are a few tickets left but be quick, they're selling fast!
we also heard from former Women Today guest Hollie Tovell, who had been in to see us a few months back when she was raising money for her Miss Isle of Man campaign, while also studying for her A - Level exams - she revealed how she got on with her results this morning;
we spoke to Mum Simone Georgeson about the pressures of being a parent on results day, as one of her daughters looks to get her GCSE results next week, while her eldest received her A Level results last year and is now at University in the UK;
and we asked what you thought of last night's programme 'No More Boys and Girls: can our kids go gender free?' You had some fascinating responses to the issues raised.
If you missed the show you can listen again at this link for the next 7 days.