On #MRWomenToday listen again: Gin and the rules regarding present regifting....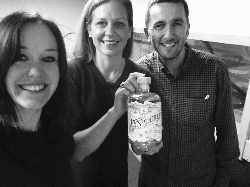 On #MRWomenToday Beth and Ben were joined by Tiffany Kerruish, co-founder of The Fynoderee Distillery.
We talked about what it's like starting a business from scratch and the importance of developing a brand. Find out more about the distillery here.
Also today we found about an awareness day for people with either epilepsy or psychogenic seizure (often known as PNES or NEAD). It's this Sunday - November 19th and for more information go to http://www.epsaiom.org
We discussed Scotland's plans to introduce a minimum price for a unit of alcohol and the rights and wrongs of regifting presents.
If you missed any of the show you can listen again here.