On #MRWomenToday listen again: It's that time of year....oh yes it is.....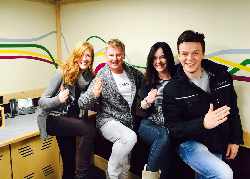 On #MRWomenToday this afternoon Gary Chatel and Jack Divers from Dreamstar IOM Productions joined us to talk about Aladdin the Magical Pantomime which is on at the Gaiety Theatre from December 21st until January 4th. Gary is celebrating 30 years of panto performing and reminisced about some of his most memorable roles. There was also a slight incident which you can view here....
Also today we heard about the need for people who live together and aren't married or in a Civil Partnership to be aware of their rights - it's Cohabitation Awareness week.
We also revisited the idea of banning Sleeping Beauty, discussed Black Friday and Cyber Monday and congratulated Prince Harry and Meghan Markle on their engagement.
If you missed any part of the programme you can listen again at this link for the next 7 days. (oh yes you can....)