On #MRWomenToday listen again: Potty knit wits, switched off exercise bikes and ironed tea towels...
On #MRWomenToday this afternoon we were joined by the Potty Knit Wits aka Celine Appleyard and Val Nelson. They have combined to create a retail outlet and workshop, offering a variety of lessons, events and have-a-go sessions in ceramics, knitwear, textiles and painting. They welcome all ages, family groups, special needs, schools and clubs to join them in their art therapy sessions which will be held regularly throughout the year. Private tuition can also be arranged and bespoke commissions are welcome.
This weekend they are holding a free event, funded by the Isle of Man Arts Council, for anyone to go along to the studio at Silverdale to have a go - details here. They'll be open 12pm-4pm this Saturday and Sunday.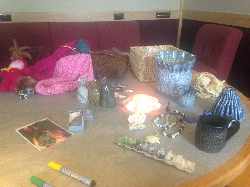 We also heard about the latest fundraising effort for Wish Upon a Dream. From 9am to 9pm staff at the Palace Hotel are riding continuously in hour long stints on an exercise bike and they're offering car and bike washes as well. The charity was set up by Lesley Turnbull in memory of her baby daughter and grants wishes to sick or terminally ill children living on the Island.
And we also asked if you should iron tea towels - and apparently we should be according to listeners. Who knew!
You can listen again to today's show for the next seven days by clicking here and we'll be back tomorrow just after 2pm.