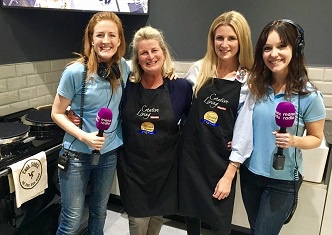 Beth and Christy were live today from Haldane Fisher show rooms - more specifically from the 'AGA Hub', as the Cook Shack's Georgie Revill and daughter Lydia gave us a brilliant demonstration of what these beautiful beasts can really do.
From cooking pancakes to roasting chillicheesepeppers, from making mini meringues and fantastic flapjacks to frying the perfect over-easy egg and grilling halloumi, Georgie - who is a certified demonstrator for AGA - showed us how to do it all, with ease!
We also spoke with Simon Hartley, showroom manager, to find out all about the major work happening at Haldane Fisher and to find out about the AGA demonstrations held by Georgie. Each demo costs £25 with all the money going to chosen charity Bridge The Gap IOM.
If you missed any part of today's programme you can go back and listen again at this link for the next 7 days. You can also find out about Cook Shack IOM here, and check out Haldane Fisher and their upcoming AGA demonstrations here, call them on 01624 624466 or visit them at Barleyfield Road in the Isle of Man Business Park.
Also head over to our Manx Radio Facebook Page for videos from the show, showing Georgie cooking up a storm live on air. Legend :)
Tomorrow we are talking about the problem with plastic - joined again by Rowan Henthorne back home from her Exxpedition along with Chris from Life Less Plastic, Richard from 3POP and we hear from IOM Creameries about their new eco-packaging. Tune in from 2pm!