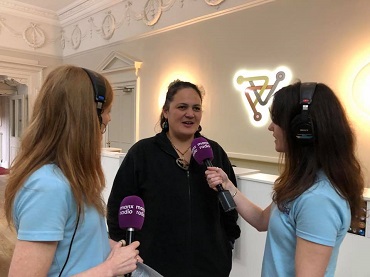 Beth and Christy were live from the Nunnery today, as it played host to the University College Isle of Man's second Business Challenge. Students, tutors, judges and business owners worked together to make a fabulous event that is sure to grow and help inform and educate the business students of today, so that they can become the business leaders of tomorrow.
Many thanks to our guests: Pippa Edmunds and Gail Corrin from UCM, all the students we spoke to, judges Ray Harmer MHK and Katie Nicholson and to Claire Lewis and Mike Walker from Manx Mohair - and huge congratulations to Team Billy Goat Gruff (team leader Elise pictured speaking to Beth and Christy) who won the overall Team Trophy.
If you missed any part of today's programme you can listen again at this link for 7 days.