On the programme today: -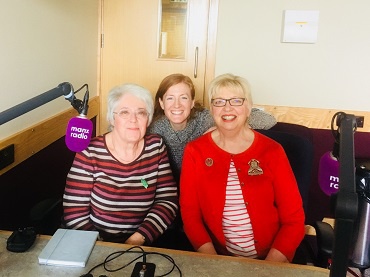 - we were joined by marine scientist Rowan Henthorn, who is about to embark on an eXXpedition to research plastics in the ocean. You can find out more about the trip and the work she will be doing at this link;
- we spoke with the Lynne Stubbings, the Chair of the The National Federation of Women's Institutes, who is visiting the Isle of Man Federation this week and told us about the success of their Food Matters Campaign (pictured right, alongwith new Isle of Man Chair Pat Nutter);
- and we paid tribute to those affected by the Manchester Arena bomb attack which happened one year ago today.
If you missed any part of today's programme you can listen again at this link for the next 7 days.
And you can listen to the full interview with Rowan on our portal below. Tomorrow we are talking food and dance... hope you can join us from 2pm!