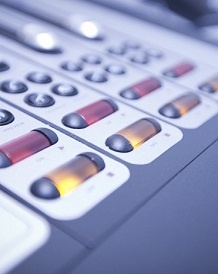 Bob Harrison
Born in Northampton in the last century, after leaving school with not enough 'A' levels, Bob started work in the local authority's Highway design department … yes the M1 was all his fault … in his council career Bob finished up as Deputy Borough Surveyor for Devizes in Wiltshire. Finally moving out of local authority work, he worked at various jobs until he finally ended up half owning a DIY shop called 'Oddjobs' and helping run a building company. Relaxation at the time was hospital radio and this hobby became a different career in local radio in Swindon with the then new radio station 'Wiltshire Radio', this station grew into 'GWR'.
Leaving this station after doing the late show, afternoons, drive, jazz and being the art and show biz correspondent, Bob joined the BBC in Swindon prior to joining Manx Radio in 1990 as the breakfast show host and now he presents a variety of shows.
Guilty pleasures are his vinyl record collection, reading books and occasionally treading the boards at the Gaiety Theatre. Married to Maureen for more years than they both like to remember, they have 3 sons and 9 grand children plus a Silky terrier called Bonnie who lets Bob and Maureen share her house.