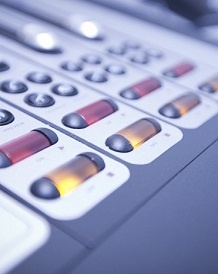 How likely are you to vote?
How likely are you to vote?
Voter turnout has been an issue which has been debated endlessly over the years, both here and further afield.
In the past 15 years on the Isle of Man, there have been some changes to try and improve turnout in General Elections - including moving them from dark and dismal November to (hopefully) more sunny September and the historic move to give 16 year olds the vote, partly driven by the hope of encouraging lifelong political engagement.
But is there any way of working out who's more likely to go out and vote?
Please welcome Paul Craine: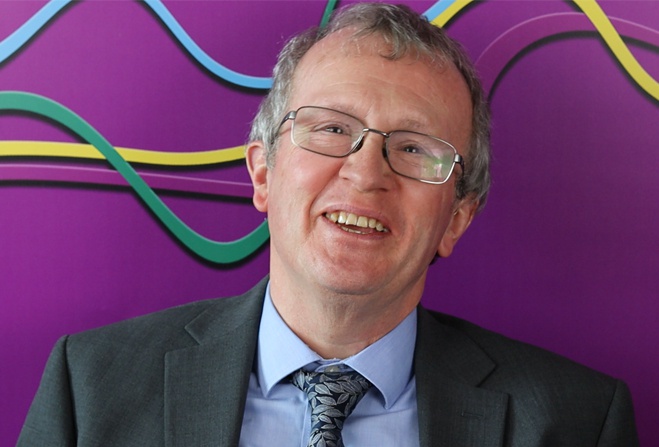 Paul, author of the Isle of Man Population Atlas, is a general whizz when it comes to data and has a particular penchant for maps.
We asked if he'd look at the turnouts in each constituency in the 2016 General Election, to see if there were any patterns in voter behaviour.
The results were quite surprising.
Does the answer lie in your postcode?
Take a look at this first map where Paul has overlaid voter turnout across the Island's 12 constituencies.
Don't forget that each constituency is designed to have a roughly equal number of people in each one.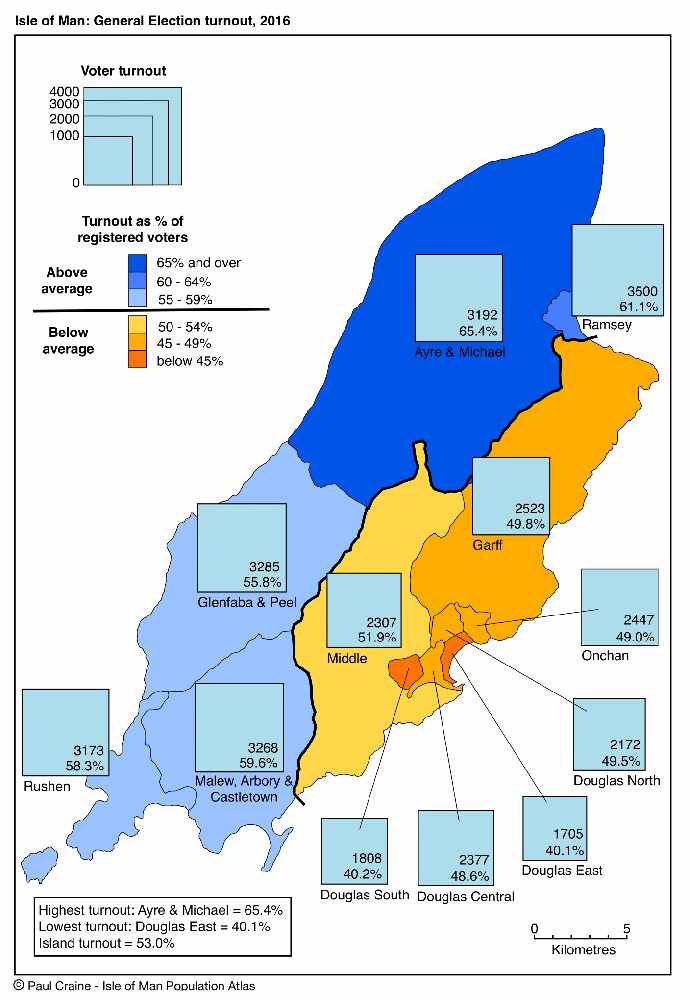 What you can see here, is a clear Island split when it comes to voting.
So if you live in Ayre and Michael you were most likely to have voted, followed by Ramsey, then Malew, Arbory and Castletown, Rushen and then Glenfaba
and Peel.
The turnouts in these western areas were all above the Island average of 53%.
Those in the Eastern areas Middle, Garff, Onchan, and the four Douglas constituencies had lower turnouts - all below the overall Island average.
But why?
While there is no simple answer, one factor could be age.
Take a look at this map which breaks down the broad age structures of the constituencies: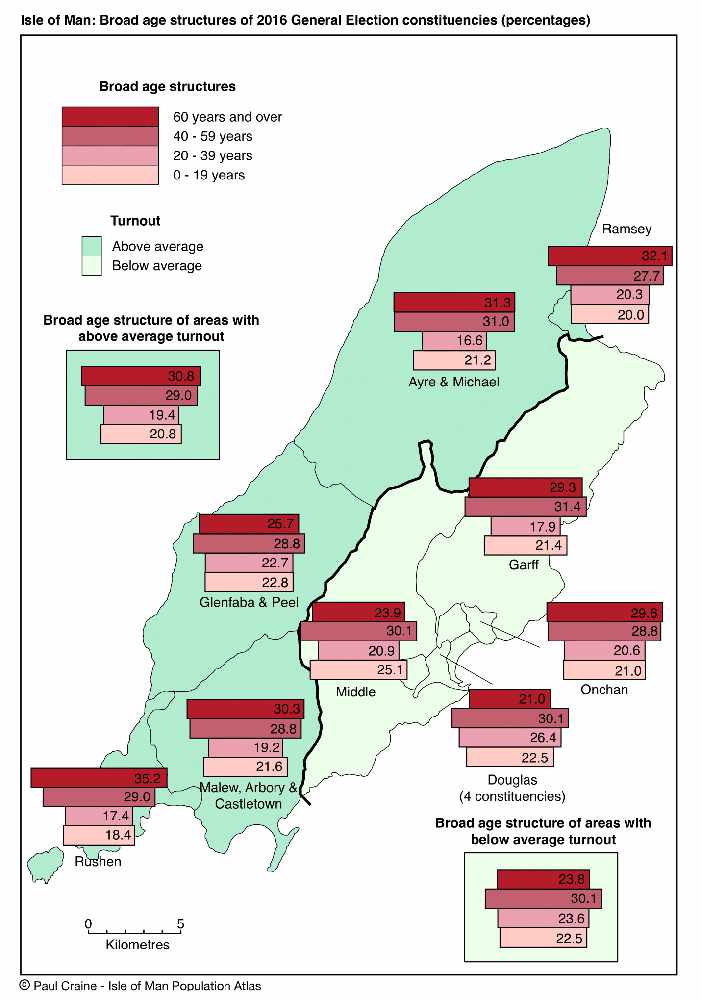 What we see here is that the five constituencies down the western side of the Island average a population where 31% of people are aged 60 and over.
The group of seven constituencies on the eastern side of the Island average a population where just under 24% of people are over the age of 60.
Could age be the main factor then?
Perhaps, but it's unlikely to be that clear cut.
Maybe older people are more likely to vote than those who are younger because they are more settled - they've been here longer.
Some people think that the baby boomers - those born between 1946 and 1964 - are far more likely to vote.
That's because their experience in a post-war society means they take their responsibility to vote more seriously.
The younger population may be more transient, heading off to experience life in other places, and therefore not as likely to think voting in a General Election is relevant to them.
What we see above, is that generally those over the age of 40 were more likely to vote, and in fact according to this data the least engaged were those between the ages of 20 and 39.
When you think that this is the age group that's most likely to be working and having families, why aren't they generally more interested in making their voice
heard?
What about the younger voters?
Since 2006 those aged 16 and over have been able to vote in the Isle of Man - how many of them took up that opportunity in 2016?
Let's look specifically at those aged 16 to 17.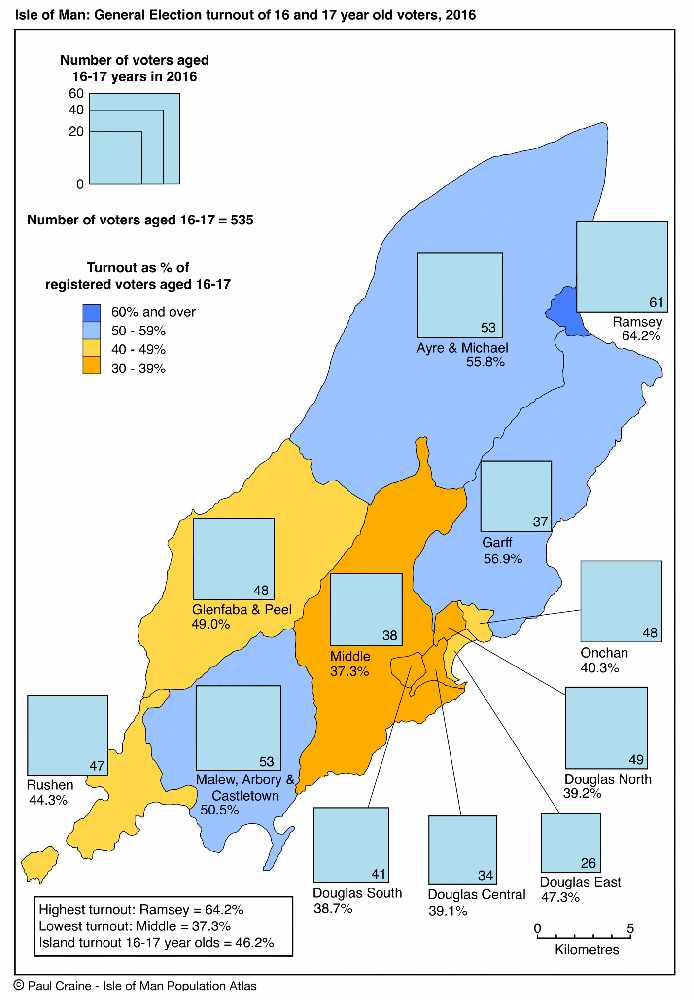 The overall turnout in 2016 for this age group was 46% - quite a bit below the overall general turnout of 53%.
There's no visible split between West and East, and in fact no real pattern across the Island.
Certain areas did much better than others - you can see an impressive 64.2% in Ramsey, compared with just 37.3% in Middle.
Most worrying perhaps though, is that the turnout of this age group has fallen since the first time they were able to go out and vote in 2006. Then it stood at
around 54%.
Why?
Paul says that some young people he spoke to said they wanted to vote in 2016, but looking at the manifestos they couldn't decide who to vote for, and so they just didn't.
This generation has already had significantly different life experiences to those who are older, and perhaps they need to feel candidates have something to
say to them on their wavelength that's relevant to their lives?
So what now?
This year there are a number of changes aimed at improving voter turnout, including being able to register to vote up until September 2nd - the month of the election - and there's the introduction of on-demand postal voting. Click here to find out more.
The Crown and Elections team is also doing a lot of work to make sure people know what they have to do and when, issuing information like this: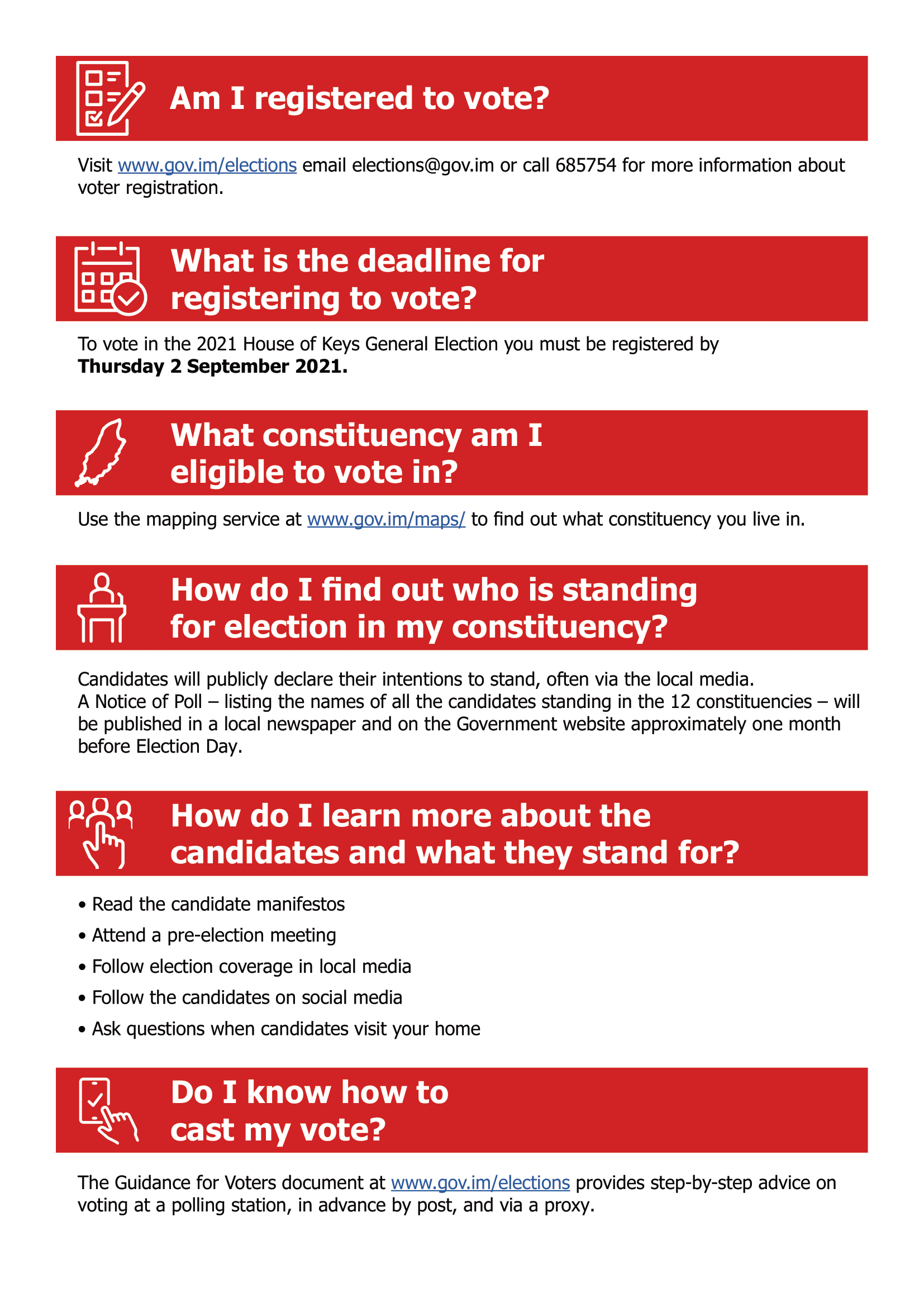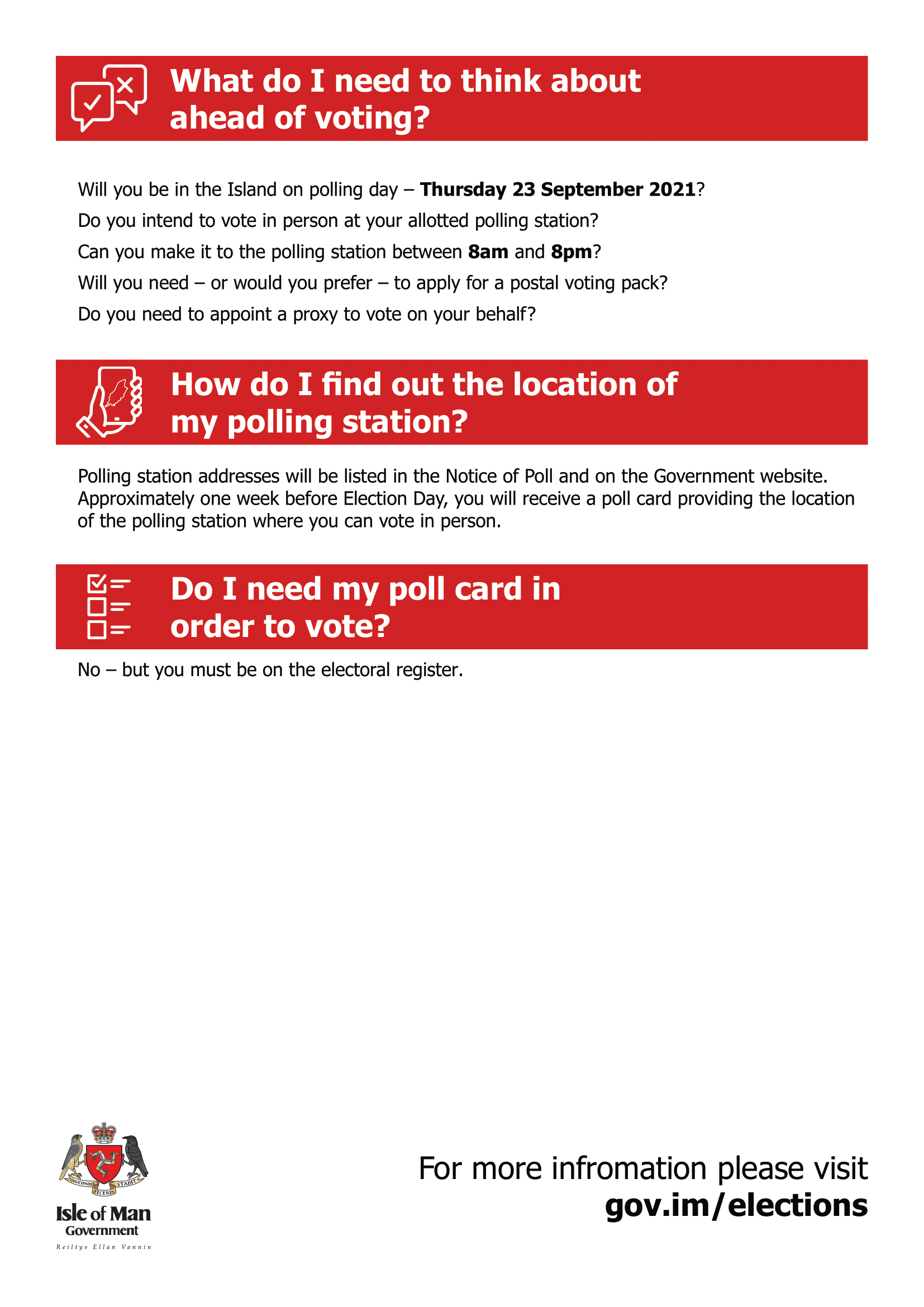 Will all this be enough to encourage more people to vote on September 23rd?
We'll have to wait and see.
One thing's for sure though. The events of the past 12 months with the coronavirus pandemic have affected us all and turned our assumptions upside down.
To be in with a chance of winning a seat, prospective candidates will have to show they can be all things to all Mann.