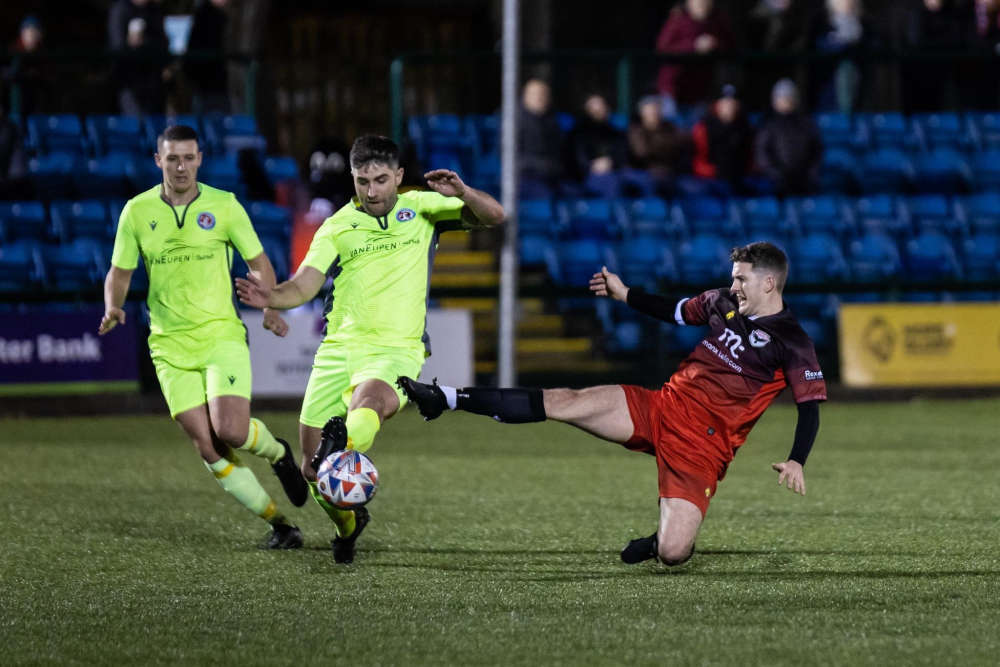 Photo Credit: Gary Weightman/Vannin Photos
League leaders inflict Ravens' third straight defeat
FC Isle of Man suffered their third straight defeat this evening (21 January) as a clinical Vauxhall Motors side earned a 3-0 victory at The Bowl in the NWCFL Premier Division.
League leaders Vauxhall Motors were in front after seven minutes thanks to a brilliant solo run and close-range finish from Michael Burkey.
'The Motormen' then doubled their advantage nine minutes into the second half with Burkey the scorer again, this time with a rasping low strike from the edge of the FC Isle of Man box.
The Wirral-based outfit then made sure of the three points in the 66th minute thanks to a low 20-yard drive from midfielder Aaron Dawson to keep 'Motors' at the top of the league table.
FC Isle of Man entered today's contest still hunting for their first points of 2023, whilst Vauxhall Motors were looking to consolidate their place as current table-toppers in the division.
The Ravens nearly broke the deadlock in the opening 60 seconds of the game, but striker Furo Davies saw his bullet free-kick from 35 yards crash off the Vauxhall Motors crossbar.
In a whirlwind start to the first half, Vauxhall Motors then took the lead seven minutes in when Michael Burkey collected a cross on the right flank and danced through a series of tackles into the FC IOM penalty area before calmly dispatching a low finish beyond Ravens' stopper, Ben Wilkinson, into the bottom left corner.
Despite the frantic early start to the game and high tempo from both sides, the remainder of the first period passed without much in the way of obvious chances at either end.
Finding themselves 1-0 down at the break, the Manx side pushed early in the second 45 to get on level terms but were punished again in the 54th minute by the visitors.
A swift Vauxhall Motors counter-attack from an FC Isle of Man corner saw Burkey receive the ball on the edge of the Ravens' box and, with space on the right from 20 yards, fired a low right-footed strike to Wilkinsons's right and into the bottom corner for 2-0.
With the visiting side now firmly in the driving seat, FC Isle of Man struggled to break down the resolute 'Motors' defence, with Ciaran OLoughlin in the Vauxhall goal going untested.
In the 66th minute, Vauxhall Motors then put the game beyond doubt as a throw-in from the right came to the feet of midfielder Jordan Deer who cleverly dummied the ball to the edge of the box were it was met by the onrushing Aaron Dawson who drilled a powerful shot into the net at Wilkinson's near left-hand post.
With postponements in other games in the division this week, the result means FC Isle of Man remain 17th in the NWCFL Premier Division standings.
The Ravens' next game will be at home against Squires Gate on Saturday, 28 January, kicking-off at 6pm.
Man of the Match: Michael Burkey (Vauxhall Motors)