Ben Hartley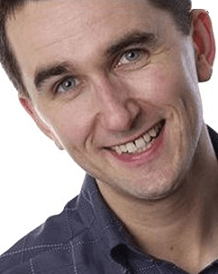 A Peel boy born and bred, Ben can be heard on Manx Radio presenting the Saturday Night Party each weekend from 6-9pm along with a variety of other shows, plus behind the scenes he is our Programme and Content Co-ordinator.
Ben has always loved radio since he was very young - and when he was at QEII High School, he was lucky enough to do a weeks work experience at Manx Radio. He enjoyed himself so much that he picked up work with the radio station at weekends doing everything from helping to man reception to making the tea!
A full time position in the Programme Department became available in 1998 and Ben has never looked back. He spent six years with Manx Radio and then in 2004, he re-located to London and spent time working at several radio stations there. Three years later he moved out to the Home Counties and began working at BBC Surrey - initially he was the Breakfast Show reporter covering a wide range of stories from the Heathrow Airport extension to St Georges Day celebrations in Guildford. He also spent two years presenting the stations Early Breakfast programme.
But the pull of the Isle of Man proved too much and in 2010 Ben headed back to home territory. In his spare time he's trying to do as much walking as possible in preparation for the Parish Walk !!