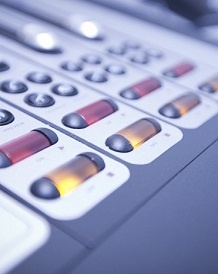 The Gaiety Theatre
Culture Vannin with the Isle of Man Dept. of Education produced a series of videos specifically designed to be used in Island schools focussing on Manx History and Isle of Man Geology that would fit within the National Curriculum. Produced by Charles Guard, they are now available online and a valuable resource to all parents currently home-schooling.
Here is the documentary: The Gaiety Theatre's Corsican Trap hosted by Charles Guard. With further details below:
The stage machinery in the Gaiety Theatre in Douglas in the Isle of Man is amongst the most complete and unusual in any theatre in the world. Built at the end of the Victorian era one of the traps is now unique in the world, being the only surviving example. This is the legendary and spectacular 'Corsican Trap.'
Charles Guard watches some demonstrations of the traps and takes a ride on one himself.