Leader angry over lack of progress
The leader of Douglas Council has launched an angry tirade at the local authority's housing department, over a lack of progress in tackling poorly fitted roof insulation.
It's understood this causes damp in some council properties, yet the housing department has been reluctant to check lofts without prior completion of an asbestos survey.
David Christian first raised the issue in 2016 and was scathing in his criticism during a meeting of the Council this week.
He said 'either I'm being made to look a fool, or the housing department isn't doing its job'.
'Our staff are in our properties everyday. Why can't we get them to have a quick look at the insulation? Surely we don't need an asbestos survey for everything'.
The chair of the housing committee, Claire Wells said there's nothing stopping staff having a look, but after previous experience with asbestos, the housing team are cautious.
She said 'it's not through lack of trying that this hasn't been sorted', but monetary restraints and delays in securing funding from government have slowed down the process.
'We have to get a loan for further maintenance funding from the DOI against set criteria, and those criteria are stringent'.
Mrs Wells agreed to consider Mr Christian's request that staff start surveying lofts when on site.
The leader also tabled a series of written questions on the issue to Councillor Wells, which you can view below: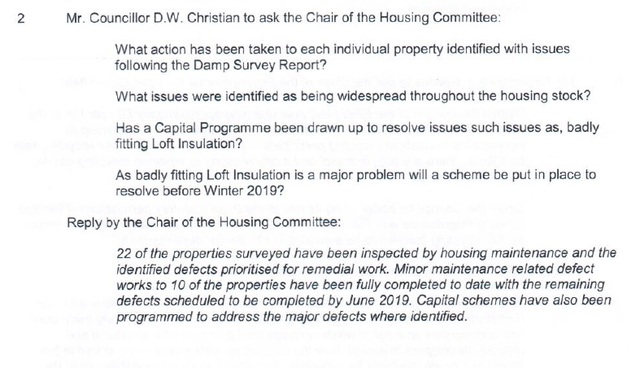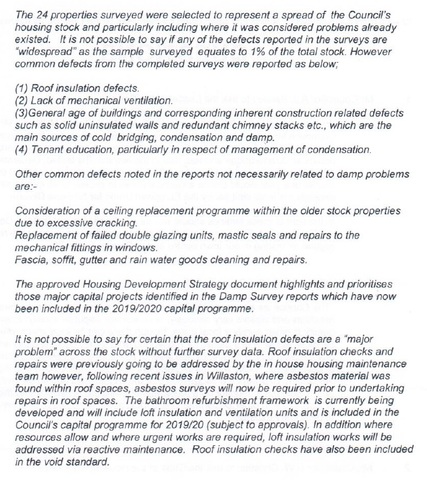 The leader said all reports clearly state it's ill-fitted insulation which is causing problems, and threatened to bring a notice of motion to Council on mayor-making day if progress isn't made.