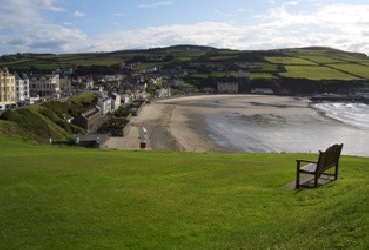 The highest sea temperatures ever recorded around the Island have been linked with the temporary closure of some of the king scallop beds off the west coast of the Island last year.
Monthly average records were broken for six of the 12 months of 2014, with temperatures during May, June, July, October, November and December exceeding previous records for those months.
Temperatures exceeded 16°C on nine days during August and the highest sea surface temperature of the year was on the 6th August, when a temperature of 16.7° C was recorded.
The sea surface temperature has been measured daily in Port Erin Bay since 1904
Dr Kev Kennington, Marine Monitoring Scientist at the Government Laboratory, says 2014 was also an unusual year for marine wildlife, with record concentrations of chlorophyll, a measure of the quantity of phytoplankton (or plant plankton) being recorded during the spring months.
These were not matched by the same concentrations of zooplankton (animal plankton), which is the preferred diet of basking sharks leading to very low numbers of sightings of the animals.
A prolonged bloom of one particular species of phytoplankton - which produces chemicals that can accumulate in shellfish such as scallops - happened in late summer and as these chemicals can cause health problems in humans at high levels, DEFA took the decision to temporarily close some of the King scallop beds off the west coast.
All of them have now reopened.