Landlord Paul Tangeman seals maiden win in front of home crowd
Malew 2's lead cut once again
Table-topping Malew 2 lost their third game in a row in week 14 of the 2018/19 Macs Builders Merchants snooker league, but other results mean they remain at the summit with just two points now separating four teams.
St Olaves ran rampant with heavy break building from all five players - Sean Corkish had breaks of 39 and 25 but still failed to recoup the handicap difference against Mark Quinn, whilst teammates James Kerr and Dan Crawley had breaks of 24 and 25 as they put the northerners 2-1 up - Kerr's win keeping him joint-top of the individual standings.
Paul Smyth had a run of 23, but again couldn't bridge the gap to catch David Quayle as the visiting Malew 2 drew the scores level, only for Benito Mongiovi to complete a 3-2 win for St Olaves with a break of 22.
Despite the victory, St Olaves drop to fifth in the standings as three Finch Hill sides make up the top four.
The 'Musicians' overcame the 'Mob' in an important derby at the top - despite the 'Mob' going 2-0 up with wins for Steve Finnegan and Tom Miller, after breaks of 27 and 24 respectively.
John Kennish made it 2-1 with breaks of 26 and 21 against Peter Crellin, who also had a 29, before Matthew Dodd and Lee Hunt sealed an unlikely comeback.
That result leaves the 'Mob' in second, with the 'Musicians' joint-third alongside the 'Young Guns' who won 4-1 on the adjacent table at Finch Hill.
The visiting Douglas Snooker Club 'Newbys' had gone ahead through Jamie Wilson, who had a break of 21.
But after that it was one-way traffic, as Paul Tangeman secured his first win in Manx snooker, Dollin Mercer won with a break of 28, Nick Stephens battled to a heavy win over Zain Abideen and Calum Gardner anchored with a break of 20 in his win against Ste MacDonald.
In another derby, Douglas Snooker Club 'Hurricanes' beat the 'Wannabes' in yet another high-scoring affair.
The league's joint-top individual Nigel Kermode won again with a break of 25, Chris Dagnall had breaks of 37 and 23 in his frame win, and Paul Smith had a 31 as he made it three.
Steve Cowin and Fred Corris won for the 'Wannabes', who remain bottom with eight games to play.
In Ballasalla, Malew 1 won 3-2 against the Finch Hill 'Rockets' after good displays from Tony Cubbon, Eric Drinkwater and Roy Gelling, with Matt Radley and Ken Kinrade victorious for the guests - Radley's 24 being the only break of note.
And in the west, early league leaders Peel Legion have now lost seven on the bounce, after a defeat at the hands of Port St Mary Legion.
The hosts twice drew level - Don Humphries made it 1-1 after Dave Pickersgill had put the southerners ahead with a break of 30, and John Kelly also made it 2-2 for Peel after Marc Morley had put Port St Mary ahead once more.
But, in the decider, Terry Boyle sealed the win for the guests as he beat Geoff Hall.
James Kerr and Nigel Kermode are still the top individuals, now on 11 wins from 14, with Dollin Mercer, John Kennish and Tom Miller making up the top five: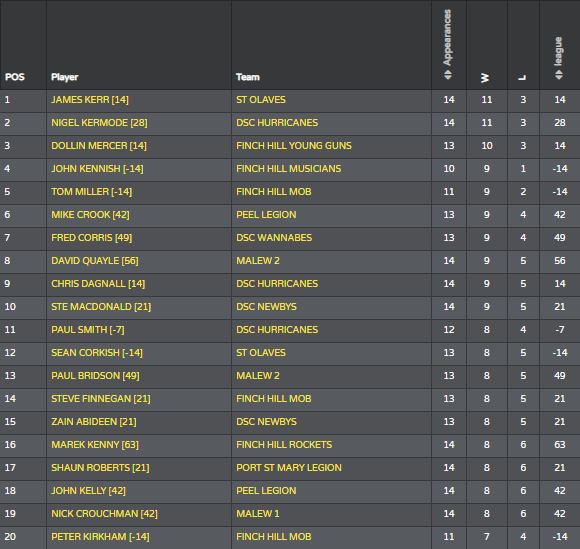 To see the league in full, head to: https://iom2011.leaguerepublic.com.