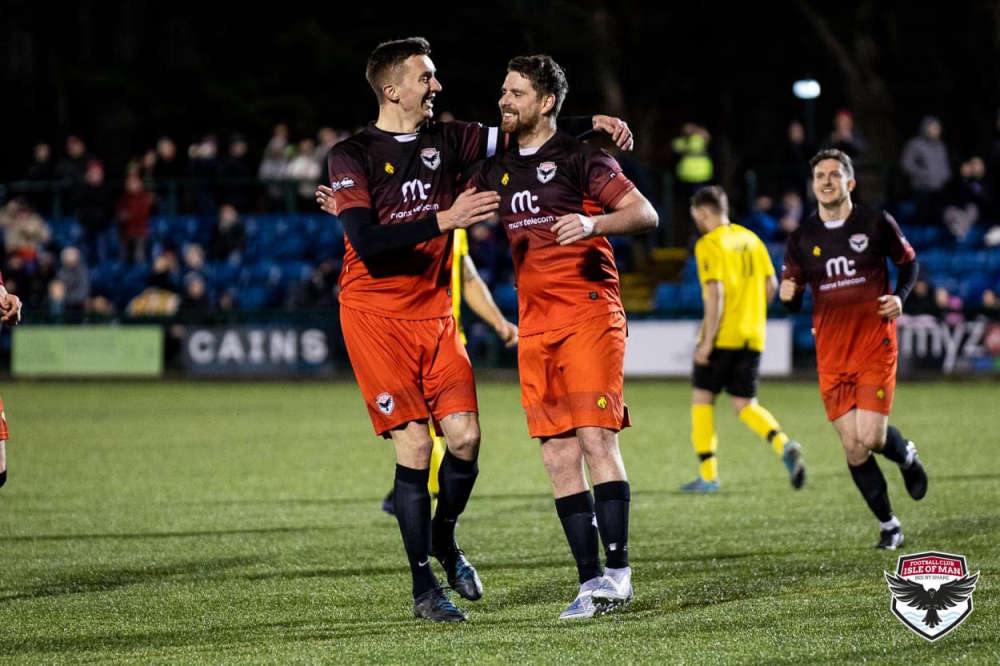 Photo Credit: Gary Weightman/Vannin Photos
McVey penalty earns Manx side third win in last four matches
An ice-cool Jack McVey penalty saw FC Isle of Man avenge late defeat last week with a hard-fought 1-0 triumph over Winsford United in the NWCFL Premier Division this evening (4 March).
McVey's finish on 66 minutes proved decisive against a dogged Winsford United side during a game of high intensity but few clear cut chances.
The result means the Ravens make it three wins from their last four games, including two clean sheets as part of their recent uplift in form.
This evening's victory also lifts them at least temporarily nine points clear of the relegation zone.
After two weeks on the road, FC Isle of Man returned to Manx soil hoping to build on their recent change in fortunes which had seen them take two wins from their last trio of fixtures.
However, they faced a confident Winsford United outfit who were targeting a five-game unbeaten streak and who'd comprehensively beaten the Island side in the reverse tie in November last year.
In an edgy start to proceedings, FC Isle of Man came close to opening the scoring on five minutes when a Ste Whitley corner from the left was met at the near post by Karl Clark, but his powerful header was headed off the line by Winsford United's Richard Peters.
In a first half where neither side created much in the way of clear chances, Winsford United did come close themselves with 19 minutes gone when some smart footwork from Jack Hart saw him skip past Clark on the left edge of the FC Isle of Man penalty area and send a low strike at goal whichever was beaten away by Ravens stopper, Dean Kearns, at his near post.
The only other flash point in an intense but unproductive first half came twelve minutes after that when a cynical foul from FC Isle of Man's Ronan McDonnell on Winsford's Adam Barlow sparked a coming together between both sets of players with several players on both sides, including McDonnell, receiving yellow cards.
After a goalless and largely uneventful first-half, it was the Manx hosts who started the second period the stronger.
Clark again came close 13 minutes in as he met a corner from the left with a vicious low shot, only for his effort to be denied by the razor-sharp reactions of Winsford goalkeeper, Arran Lyons.
But it took until the 63rd minute for the biggest opening of the game so far to come the home side's way.
A long cross from left to right found FC Isle of Man's Eoghain Sherrard on the edge of the Winsford United box, and as he strode forward he was clattered heavily by Winsford captain, Steven Jenyons, resulting in referee, Alexander Phillips, pointing to the penalty spot.
After a three-minute pause in play, up stepped McVey who, with a stuttering run, sent Lyons diving to his left before passing the ball into the opposite corner to hand FC Isle of Man the lead.
Winsford responded with a raft of substitutions to bolster their attacking threat and began to pile the pressure on the Ravens during the final 20 minutes.
However, the visitors were unable to break down a stubborn FC Isle of Man defence which kept Winsford from troubling Kearns in the Ravens net and to ultimately see the Island outfit hold out for a slender victory come the final whistle.
The victory means FC Isle of a Man climb one place in the table to 19th on 35 points, nine points clear of the relegation zone.
The Ravens next fixture will be away against Longridge Town this coming Tuesday (7 March), kicking-off at 8pm.
Man of the Match: Michael Williams (FC Isle of Man)