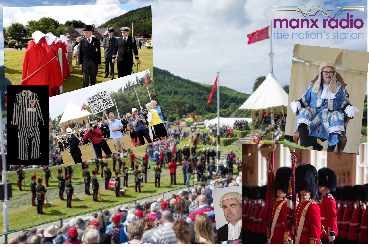 This week on Perspective, we'll be looking ahead to Tynwald Day and looking back at significant Tynwald Days from the past.
We'll be hearing from: Steve Rodan OBE MLC, President of Tynwald; the Clerk of Tynwald, Roger Phillips, with information for prospective petitioners; Weather forecaster Neil Young; Culture Vannin; Alex Brindley with information about Manx Radio's coverage and Captain Jonathan Palmer-Tomkinson, The 2nd Captain, The Queen's Company of the 1st Battalion Grenadier Guards who will be the military presence on Tynwald Day.
All of that will be squeezed into 2 hours on Sunday, 30th June from 12 noon - 2pm on your Public Service Broadcaster, Manx Radio.
Below is some more information about Tynwald Day, taken from The Tynwald Website.
General Tynwald Day Information
According to the Tynwald website...
Each year on Tynwald Day, Tynwald Court participates at the Tynwald Day Ceremony at St John's. After a religious service in the Royal Chapel, the members of Tynwald process to Tynwald Hill, one of the ancient open air sites of Tynwald. Following the proceedings on Tynwald Hill, presided over by the Lieutenant Governor, the members of Tynwald return to the Royal Chapel where a formal sitting of Tynwald takes place.
Promulgation of acts is an important part of Tynwald Day. By statute, each Act of Tynwald must be promulgated on Tynwald Hill within eighteen months of enactment or it ceases to have effect, and therefore is no longer law. Promulgation of the Acts takes place on Tynwald Day and the promulgation is certified at the sitting of Tynwald at St John's.
Acts for promulgation on Tynwald Day 2019
Freedom of Information (Amendment) Act 2018
AN ACT to make provision for the disclosure of information held by public authorities; and for connected purposes.
Credit Unions (Amendment) Act 2018
AN ACT to enable certain societies to be registered under the Industrial and Building Societies Act 1892 as credit unions; and to make further provision with respect to societies so registered.
Data Protection Act 2018
AN ACT to enable provision to be made to adequately protect personal data; to regulate the control and processing of personal data; and for connected purposes.
Anti-Money Laundering and Other Financial Crime (Miscellaneous Amendments) Act 2018
AN ACT to give effect to certain recommendations specified in the Fifth Round Moneyval Evaluation Report on the Evaluation of Anti- Money Laundering Measures and the Financing of Terrorism; to amend Manx enactments in relation to money laundering and in order to secure the effective prosecution of financial crime; and for connected purposes.
Airports and Civil Aviation (Amendment) Act 2018
AN ACT to amend the Airports and Civil Aviation Act 1987 to provide enabling powers for the making of Isle of Man secondary legislation that is not derived from related secondary legislation enacted in the United Kingdom; to authorise the enactment of Isle of Man secondary legislation that gives effect to international obligations of the Island in relation to civil aviation; and for connected purposes.
Central Registry Act 2018
AN ACT to establish the Central Registry; to create the office of Registrar General; to transfer certain functions of the General Registry to the Central Registry, the Registrar General and the Treasury; to make minor amendments to the law on the registration of interests in land; to provide for the Criminal Injuries Compensation Scheme; and for connected purposes.
Abortion Reform Act 2019
AN ACT to restate the law relating to abortion with amendments; to make provision about access zones for premises where abortion services and related counselling are provided and for premises occupied by those providing such services and counselling; and for connected purposes.
European Union and Trade Act 2019
AN ACT to repeal the European Communities (Isle of Man) Act 1973; to make provision consequent upon the withdrawal of the United Kingdom from the EU; to make provision to implement EU law in the Island after exit day; to make provision to apply to the Island UK legislation relating to the United Kingdom's withdrawal; to make provision in relation to trade and trade agreements; and for connected purposes.
Payment of Members' Expenses (Amendment) Act 2019
AN ACT to amend the Payment of Members' Expenses Act 1989 to make provision for a member of Tynwald who is suspended from Tynwald or a Branch of Tynwald to cease to receive certain payments and expenses; and for connected purposes.
Criminal Evidence Act 2019
AN ACT to make fresh provision about evidence in criminal proceedings; and for connected purposes.
Petitions
In addition, any person may approach Tynwald Hill on Tynwald Day and present a Petition for Redress. If the Petition is in accordance with the Standing Orders of Tynwald, any Member of Tynwald may subsequently request that Tynwald consider the substance of the petition. Matters are indeed redressed by this simple but ancient procedure which can lead directly to the enactment of legislation.