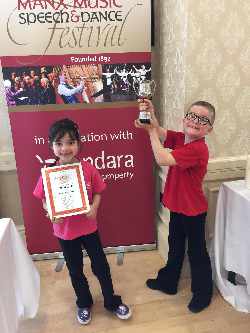 Pictured are Isaac Kriesky and Catrina McMurtrey, understandably delighted at taking first and second place in the Spoken Word class for school year 2. Listen to them both - and lots of other winning performances - on Today at The Guild for Wednesday 26 April
Here's the full playlist :
CALLUM BREW - singing The Writings On The Wall - he won the Popular Song class (1930 to present) for school years 9 - 13 - with 89 marks
BALLACOTTIER PRIMARY SCHOOL with a winning performance of the Charles Chaplin song "Smile" They got 88 marks and took first place in the Vocal Ensemble class for up to Year 13
CATRINA McMURTREY reciting "Cats" by Eleanor Farjeon
ISAAC KRIESKY reciting "Windy Nights" by Robert Louis Stevenson
DANIELLE BRIDSON was a class winner with 89 marks as she sang and accompanied herself on piano. Her choice - for the Popular Song Class for Adults (Songs from the period 1921 - 1979) was a Carole King classic - "You Make Me Feel Like A Natural Woman"
RAMSEY TOWN BAND playing the Sandpaper Ballet from their performance in the Brass Band Concert Class
KAREN ELLIOTT - winner of a new class for the American Art Song. Karen had 90 marks for her singing of "Loveliest of Trees" by John Duke. Her accompanist is Madeline Kelly
MICHAEL CORKHILL - singing Miranda - part of his winning performance in the Special Tenor Solo voice class which earned him a place in the final for the Cleveland Medal. His accompanist is Marilyn Cannell
HELEN PRESCOTT - singing "Seguidilla" by Bizet with accompanist Jill Collings. Helen won the Special Mezzo Soprano Solo voice class with 86 marks and she also took part in the final for the Cleveland Medal
JOHN SNELLLING - another contender for the 2017 Cleveland Medal. John won the Special Baritone Solo voice class with 89 marks. His accompanist is Frank Woolley and he sings "It Was A Lover and His Lass" with words by Shakespeare to a musical setting by Geoffrey Bush
LUCY GILMORE - class winning harp playing from Lucy accompanied by Jill Collings. Lucy played traditional Manx tunes - Our Ship Did Sail and Three Little Boats - arranged by Rachel Hair - and won the String Class for Grades 4 and 5 with 88 marks
GRACE TEMPLER playing Elegy by Carl Davies. This piece earned 87 marks and a first place for Grace in the String Class for Cello Grade 6 and above
LOIS MOONEY singing a Manx traditional song - Home - won the Girls Solo Years 11 - 13 with 86 marks. Her accompanist is Jill Collings
ANNABEL KING ends the programme with Black Eyes - a traditional Russian melody, and part of her class-winning performance on violin. Annabel won the String Class for Violin Grade 6 and above with 89 marks

Visit Live and Local to listen back to the programme in full.