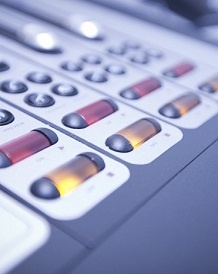 Statement of Programme Policy
statement of programme policy
As of 1st April 2015 the main institution for holding Manx Radio to account is the Isle of Man Communications Commission.
Manx Radio has agreed the following Statement of Programme Policy for the FM service with the Commission for the period to 31st March 2016:
Where
is News, Current Affairs and Weather
is Sport
is Community and Events
is Specialist PSB including religion
The schedule also includes 111 News Bulletins per week.
The above schedule ensures that our FM network alone provides a minimum of 40% of speech output on Weekdays (0600 – 1900) as follows:
News, Current Affairs, Tynwald*and Weather

Sport and TT*

Community and Events Programming**

Specialist PSB including Religion
* Although Tynwald and the TT are primarily broadcast on our Alternative AM Network, considerable content is re-versioned for use on the FM network
** Also includes Traffic, Travel, Road Watch, What's On, Event promotion, Obituaries, Charity interviews, General interviews, Competitions, and Presenter links.
The schedule is augmented with specialist public service broadcasting outside of Weekdays and at Weekends. Additionally, the network provides event coverage to serve the population with a creditable, local service that increases the speech content significantly.
Alternative Programming
Manx Radio further augments its speech output through the provision of alternative programming to listeners via its AM network including:
Tynwald broadcasts and House of Keys Question Time

TT and Festival of Motorcycling

Southern 100

Manx Gaelic language programming
NB The speech content broadcast on AM is in addition to the minimum quota of 40% speech output broadcast on FM.
Digital Programming
Manx Radio's Digital offering via manxradio.com and its iPhone and Android apps offers an alternative route to listen to the station's programming and offers users the ability to Listen Again to selected programmes and to Podcasts at a time to suit their schedules. In addition, the station's suite of Facebook pages and Twitter feed offers the opportunity for easy and effective interaction with the station.
Speech Assessment
The speech content assessment is calculated by Manx Radio and is a manual assessment carried out at each change of programme schedule and on one annual 'sample' day. It is derived from the programme log (an audio recording of the day's output) and excludes any alternative programming transmitted on our alternative services.