Abbotswood staff outside the entrance to the Ballasalla care home
Nursing home directors release heartfelt statement
Directors of the Ballasalla care home, where 19 residents died from coronavirus, have spoken out for the first time.
In a statement released this morning (15 May), managers from Abbotswood said they wish to extend thoughts and prayers to those affected by the 'tragic events of recent weeks.'
It comes as the Department of Health and Social Care confirmed a number of independent investigations into the home are underway.
'We are all utterly devastated and cannot find the words to fully express how sad we all feel', it reads.
The directors go on to praise care staff who have 'worked tirelessly and with great courage to protect everyone who made Abbotswood their home.'
It was revealed this week that local firm Expol has been tasked with investigating 'safeguarding concerns' at the home.
At the height of the virus's spread, 47 out of 52 residents contracted Covid-19, however as of Thursday (14 May), 17 are understood to have recovered.
'For everyone at Abbotswood' management said, 'caring is a vocation'.
'Those we cared for were far more to us than 'residents'. We cared for them as the parents and grandparents, brothers and sisters, aunts and uncles, neighbours and colleagues, that they are to their families and friends. Our thoughts and prayers are with you all.'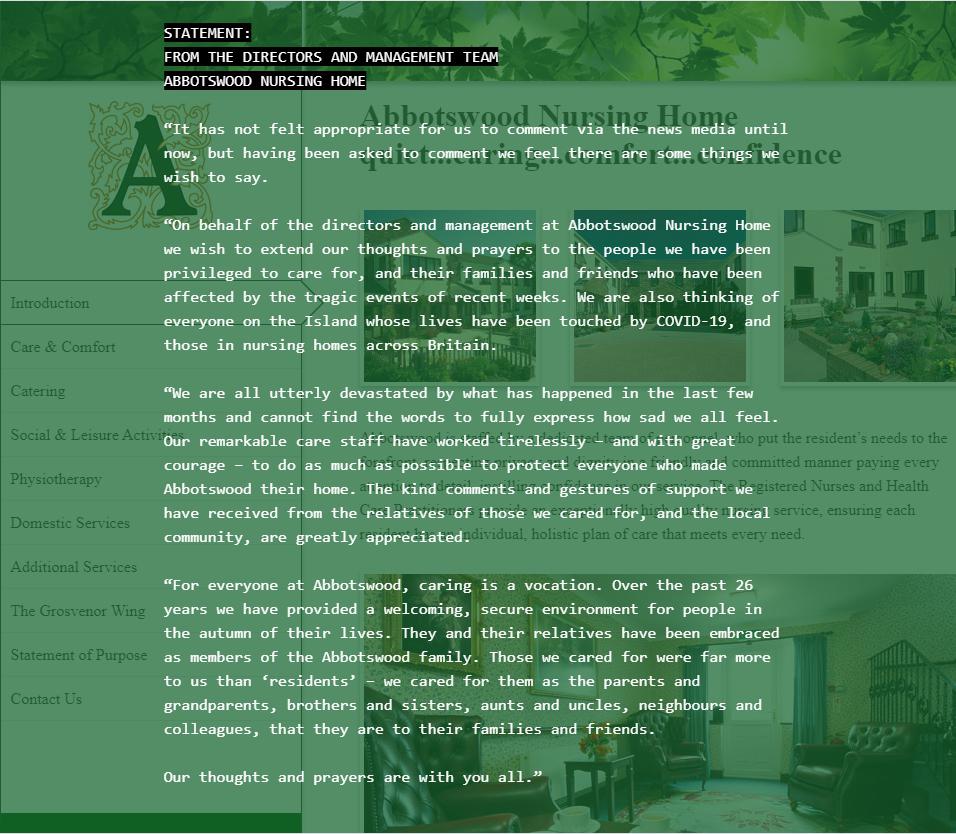 In light of the home's closure, it was confirmed that a number of staff could lose their jobs.
However, Health Minister David Ashford said roles will be offered elsewhere in his department but admitted positions will limited.
On 15 April, it was announced the DHSC had 'stepped in' at the care home after it had its licence suspended.
Since the transfer of remaining residents from Abbotswood to Newlands was completed this week, directors of the home were seeking to appeal the suspension of their registration.