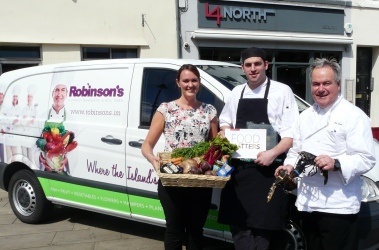 The search is on to find the Island's most talented chefs - in a competition designed to showcase Manx produce at its best.
The 2015 Chef of the Year will be named at the Isle of Man Food and Drink Festival in the autumn.
For the first time this year, a new category will salute rising stars on catering and hospitality courses at Isle of Man College.
While the competition sponsored by Robinson's, celebrates local culinary talent, there's a special focus this year on ingredients grown or produced in the Island.
The government's Food Matters strategy has an ambitious target to grow the value to the Manx economy of the food and drink sector by £50 million over the next decade.
Short listed chefs will cook in front of an audience at the Queenie festival in August with finalists competing for the title at the Food and Drink festival in the Villa Marina Gardens in September.
Thirty students from the College will take part in the first Isle of Man Student Chef of the Year, run along the same lines.
You can pick up entry forms from the Department of Environment, Food and Agriculture at St John's, with links from Facebook and Twitter.
Pictured: Darren Woods of 14 North with Janna Horsthuis from Robinson's and chef-judge Tony Quirk.