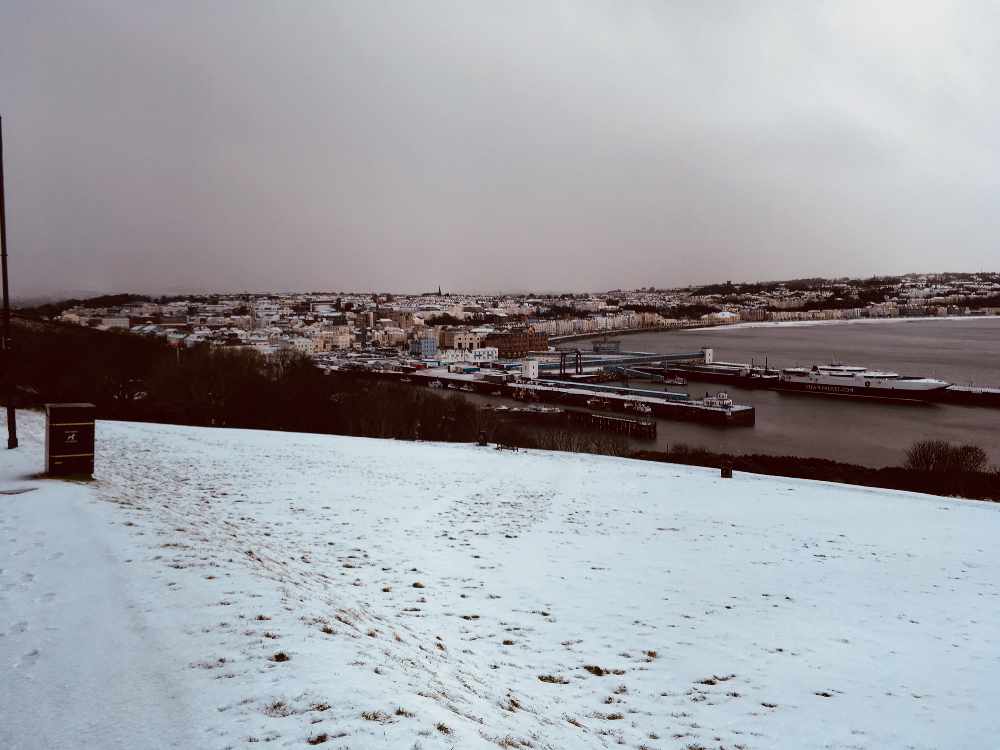 Total white-out across Mann
Snow, ice, hail and wind have created a day of havoc for Island travelers, homes and businesses.
Public services and transport networks have been among the hardest hit by a rare flurry of extremely wintry weather, with the roads proving the story of the day as motorists tried (with varying degrees of success) to navigate slippery roads.
Services disrupted
All Island schools were closed including University College IOM. King William's College and the Buchan were also closed. UCM will remain closed tomorrow.Healthcare was also affected - with nurses, GPs, dentists and other staff largely unable to maintain services for patients.
Noble's Hospital cancelled scheduled operations, along with a warning not to attend the facility unless in case of emergency.
Any patients affected by the snowfall have been contacted by staff with a view to rearrange.
Further updates are still available here: https://www.gov.im/news/2017/dec/08/weather-disruption-update-from-department-of-health-and-social-care/
Douglas Borough Council was one of several local authorities to suspend services such as bin collections today.
There were some isolated power cuts across the Island, but not for any significant period of time.
Government-owned sites including the Manx Museum, House of Manannan, and National Sports Centre were also closed for the day, as well as a number of Post Offices.
Travel
Roads leading in all directions were frequently in disarray - with abandoned vehicles, skids, collisions and closures becoming the norm on several well-traveled routes.
Police are still urging Islanders to travel only if totally necessary, and ask that in the event of an abandonment, to please put contact details on the dashboard.
Most main roads are now passable with extreme care, so motorists are asked to remove any cars on main routes.
The Mountain Road was closed overnight into Friday, and will remain shut for the foreseeable.
Richmond Hill, the New Castletown Road, Cooil Road, Whitebridge Road, Johnny Watterson's Lane, Bray Hill, Prospect Hill, and the Shoulder Road encompassing the Sloc were among those worst affected by conditions - and were the subject of frequent temporary closures as conditions made them impassable.
The above are likely to be affected as inclement weather continues over the weekend, so plan journeys accordingly.
Bus Vannin services were heavily disrupted throughout the morning, but slowly resumed as the day went on. Buses are still avoiding some housing estates.
There was severe disruption at Ronaldsway Airport, with a large proportion of flights left unable to land or take off.
But the Steam Packet's sailings remained largely unhindered today.
Outlook
Ronaldsway Met Office advises that low temperatures will persist over the weekend, with more rain, sleet and ice likely into Saturday.
This means some more disruption is likely.
All residents are advised to heed the warnings of police, DoI and emergency services, who will all be active and patrolling over the coming days.
For the latest information, stay tuned to Manx Radio.