CoMin outvoted on conflicts of interest at elections
A bid to 'increase transparency in the Manx electoral system' has been backed by the House of Keys today (2 June).
The Council of Ministers was outvoted by backbenchers, who supported Onchan MHK Julie Edge's move to ensure candidates declare conflicts of interest at the nomination stage of elections.
A clause has now been added to a new elections bill, which will require conflicts to be highlighted when nomination papers are submitted.
The change will still need to be reviewed by the Legislative Council, and later, pass through Tynwald.
Ms Edge says the public need to be given information about any interest which could influence a future politicians' actions and decisions:
Critics of the move, like minister David Ashford MHK, says declarations like this before someone has even been elected, could put people off taking part in elections:
He and the rest of the Council of Ministers voted against including the new clause, as well as MHKs Chris Robertshaw and Ralph Peake.
The Douglas East member felt the wording was 'sloppy' and needed tidying, something Ms Edge said could be dealt with by the Legislative Council, or in future guidance.
You can see the new clause in the image below: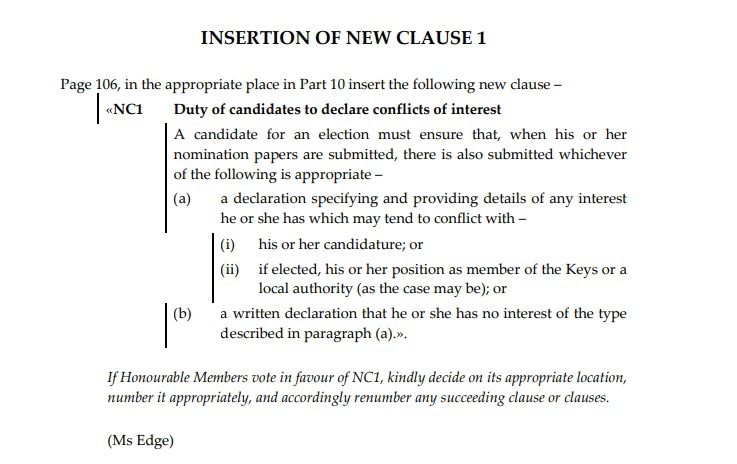 At the moment, Tynwald members have to complete a form declaring interests when elected.
Ms Edge's new clause was one of a number considered during the third reading of the Elections (Keys and Local Authorities) Bill 2020.
It's intended this will repeal and replace the Representation of the People Act 1995, and the Local Authority Elections Act 1986, consolidating Manx election rules in one primary piece of legislation.
Chris Thomas MHK, who's moved the bill, says it will bring clarity and consistency to the Manx electoral system.