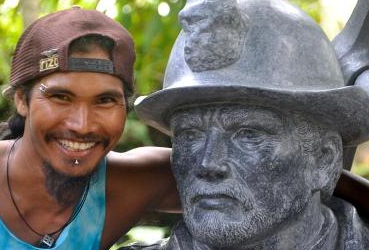 A 13 foot statue honouring some of Laxey's miners is ready to be unveiled later this month.
The work has been funded by Laxey resident and benefactor Phillis Tate, who died in 2012 aged 97.
The statue's reveal on Saturday May 23rd will also celebrate the completion of Laxey's regeneration scheme.
The statue has been created by Balinese master stone artist Ongky Wijana, who lives in Bali with his Manx wife.
A block of Carlow Blue limestone from Southern Ireland weighing four tonnes was sent out to Ongky last year for him to work with.
It's taken 10 months to complete the statue and it finally arrived back on the Island last month.
Ongky says seeing the huge block for the first time was really daunting, but he's very proud of the finished piece.
It'll be on display in Heritage Garden at Mines Road.