Philippa Tomlinson (left) and son Julyan
More than 400 arrests have now been made
A climate change protester from the Isle of Man, who was interviewed on Manx Radio direct from Parliament Square in London earlier this week, has now been arrested.
Philippa Tomlinson joined in with the Extinction Rebellion campaign a few days ago, which has been causing traffic disruption across the English capital to try and force UK politicians to pay attention to environmental issues.
Her son, Julyan, gave Manx Radio's Dollin Mercer an update:
In anticipation of being arrested, Philippa Tomlinson released this statement: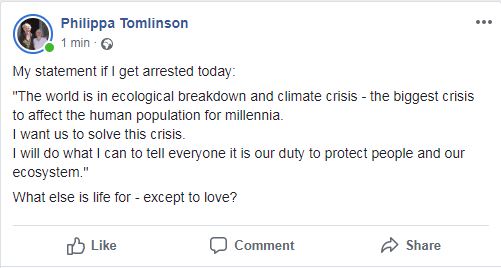 More than 400 people have now been arrested over four days of protests there, which are making a range of demands including zero emissions by 2025, a new citizens' assembly and more honesty from the British government.
Three of those arrested, who were accused of blocking a train in east London as part of the demonstrations, have denied the allegations.
They were taken away by British Transport Police, on suspicion of obstructing trains or carriages on the railway by an unlawful act.
They appeared in court this morning and have been put back in custody ahead of another hearing next month.
More activists have closed Waterloo Bridge to traffic for a fourth day.
London Mayor Sadiq Khan had this message:
We're facing a climate emergency. I fully support the right of protesters to protest on this vital issue, and urge organisers to work with police to ensure their demonstrations are peaceful and lawful and that disruption is kept to a minimum. pic.twitter.com/kwlcmIwCks

— Sadiq Khan (@SadiqKhan) 17 April 2019