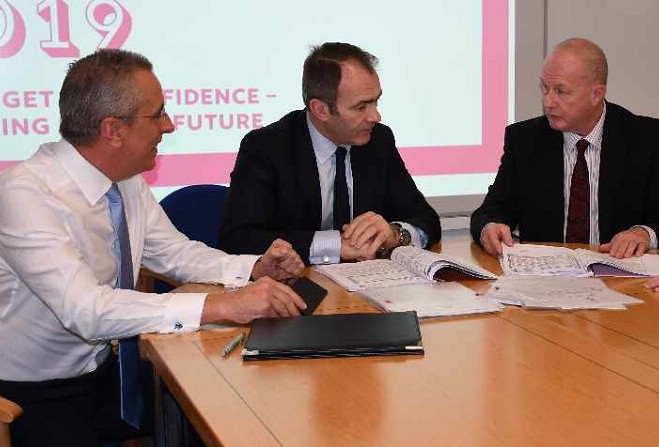 How the Isle of Man Government will use public money over the next 12 months
The headline changes from the 2019/20 Manx Budget include:
• The personal income tax allowance is going up by £750 to £14,000, lifting 1,550 people out of the tax net. Taxpayers will be up to £150 better off, or up to £300 better off for jointly-assessed couples.
• Introduction of a National Insurance Holiday Scheme for employees who move to the Island for work and Manx students who return to the Island to work after completing their UK university courses.
• Most benefits to rise by 2.4%, except for:
o Child Benefit (5%), building on last year's increase of 3.3%
o Employed Person's Allowance (2.9%)
o Maternity Payments (20%)
o Basic state pension (2.6%)
o Winter Bonus +£50 (16.7%)
o Disability Living Allowance (3.4%)
• New Manx state pension to be introduced from April 2019 at £184.15 per week.
• More money to enable departments to deliver services: an additional £3 million for Health and Social Care services, additional £3 million for Home Affairs, mainly within Policing, £2.2 million for Infrastructure and £1.5m for Education, Sport and Culture
• A five-year capital investment programme of £479 million, including a Douglas promenade walkway, facilitation works to develop the Isle of Man Ferry Terminal in Liverpool and an initiative to support the development of Jurby, a new telecoms strategy and a new landfill facility for problematic waste.
• Revision to the Enterprise Development Scheme to open it to a wider range of applicants. A total of £9 million will be available to focus on job creation and strengthen the requirement for co-investment.
• £2 million set aside from the Economic Development Fund to develop the Airport Technology Gateway, which will see the creation of a landscaped business park at the airport.
• Funds of £1.5 million ring-fenced for a revised student awards scheme, to support people who return to the Island after their studies.
• Sugar tax to be introduced from April 2019 expected to raise around £300,000, which will be ring-fenced to be used by the Department of Health and Social Care.
• Agriculture and Forestry Fund to be topped up with £1m per year for three years, to support the operation of the Meat Plant if required.
• Additional funding of £350k in 2019/20 (with additional funding in future years) made available to the Department of Environment, Food & Agriculture to deliver a modified Agriculture Development Scheme with increased emphasis on environmental priorities, sustainable food production and increased investment in modern infrastructure.
• New Community Fund to be established to fund-match community projects which support the Island's UNESCO biosphere status. The £250,000 fund will be managed by the Manx Lottery Trust.
• A top up of £1 million for the Brexit Fund to £2.5 million, for the continued negotiations arising from the UK's departure from the EU.