26-year-old Douglas man named
A Manx pilot has been confirmed as one of the four who died in a Dubai plane crash.

Twenty-six-year-old William Blackburn was on the small plane that went down three miles to the south of Dubai International Airport.

Two other British people and a South African were aboard the UK-registered DA42 plane - according to UAE authorities.
It crashed on Thursday (16 May) evening, at approximately 7.30pm local time.
Flying was his passion
His family have said in a statement: "we were blessed with the most beautiful soul and he touched so many hearts.
"Flying was his passion. He only said...the other day that if he died in flight then at least he dies doing what he loves.
"We have all our amazing memories now to cherish, and so much support to get us through. The Island's community is just amazing. We have been lucky to have him in our lives."

The four-seat plane was owned by Flight Calibration Services which is based at Shoreham Airport, in West Sussex.
William, a former St Ninian's High School student, was a first officer with the company.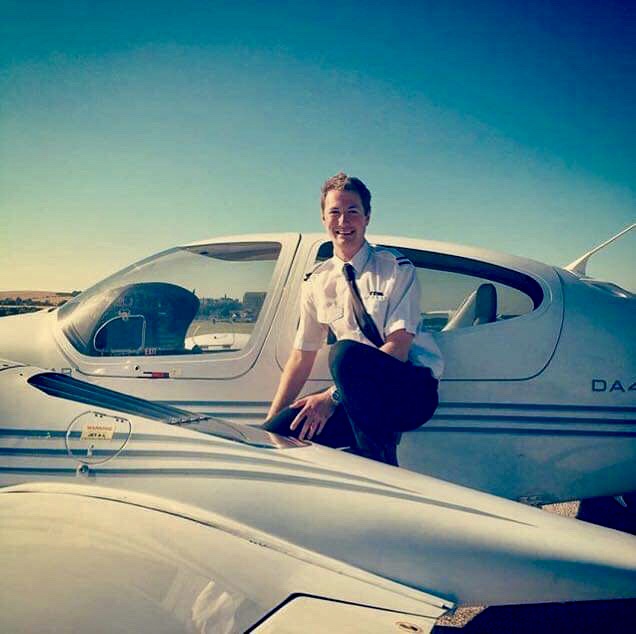 William Blackburn with a DA42 aircraft
Another who has been named, is former RAF wing commander David Phillips.

The firm flies staff around the world to inspect and calibrate navigation aids - which include radars and landing systems for airports and airfields.

US engineering and aerospace company Honeywell said it had hired Flight Calibration Services and the DA42 plane for work in Dubai.

Manx Radio has received a statement from a spokesperson at the UK's Foreign Office:

"We are supporting the families of three British people who died following a small aircraft crash in Dubai. They have our deepest sympathies at this very difficult time. Our staff are in contact with the UAE authorities."

The General Civil Aviation Authority says an investigation is under way.
A spokesman for Flight Calibration Services has said: "We are shocked and saddened beyond words by the loss of three colleagues and a Honeywell employee in Dubai.
"Our thoughts and prayers are with their families. We are working closely with the accident investigation authorities and as yet there is no news as to how this tragic accident happened."