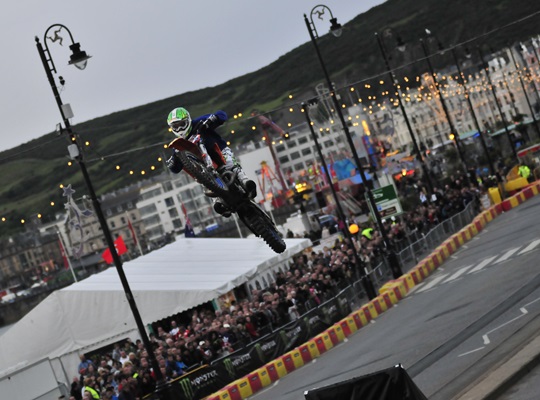 Monster Energy show outside the Villa Marina. iomtt.com
Govt doesn't have the money, claims Cretney
The Department of Economic Development has defended plans to scrap roads-closed TT entertainment on Douglas promenade this year.
Departmental member with responsibility for tourism David Cretney MLC claims the government doesn't have enough money to provide the traditional stunt shows and other acts on the prom.
The moves have sparked widespread criticism on social media – and the head of stunt troupe the Purple Helmets says he's sad they won't be on the prom this year.
Mr Cretney says there'll still be the funfair, fireworks, Red Arrows and other events.
He adds the DED has not funded the entertainment outside the Bushy's beer tent in the past, that's been put on by the owner in conjunction with Straightliners.
But he says the government's focus is on the TT Grandstand, and there simply isn't the money this year to provide more: