Baker hits out after adjournment to June
An MHK says he feels the ongoing debate over the Isle of Man Post Office is "too hard for CoMin to grasp":
Tim Baker was one of several members of Tynwald seeking that the future and remit of the organisation be scrutinised by the Economic Policy Review Committee as a matter of urgency - of which he is a member.
He - along with his colleagues on that panel, Jason Moorhouse and Chris Robertshaw - made efforts to bring the topic under their committee's remit for further investigation, with emphasis on the impact on a community when post office services are lost.
Mr Robertshaw wanted the MiCard system for the delivery of pensions and benefits through sub-post offices to be continued until at least the end of 2024.
He also wanted to see driver and vehicle licensing provision continued until the same time, and sought a mandate for the committee to formally report on these issues by May: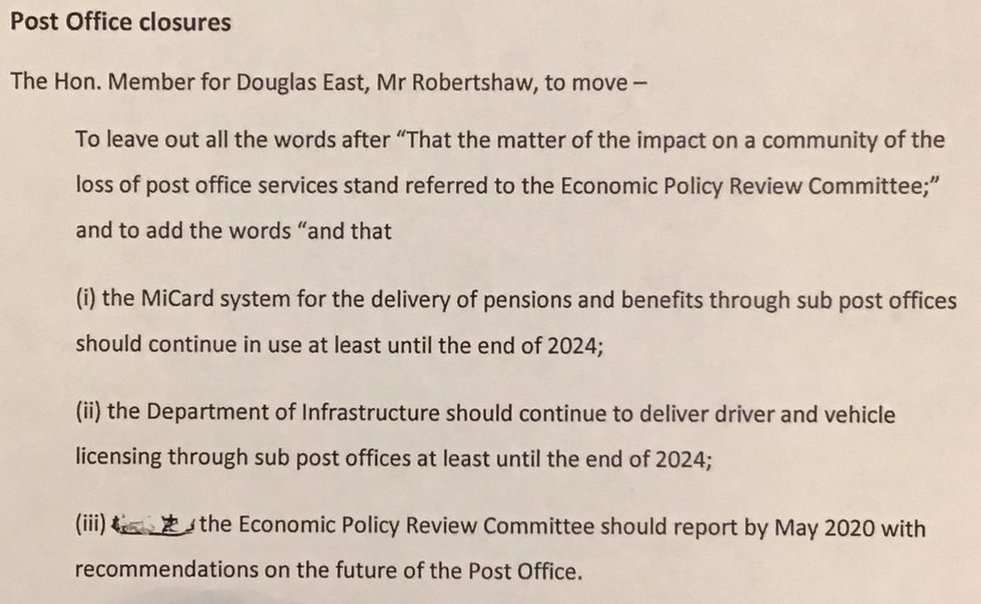 In addition, Mr Baker added his view that branches of the post office should not be closed where a replacement sub-postmaster could be found.
However, treasury member Bill Shimmins argued that all of these debates should instead simply be adjourned until June - a move which was favoured by his Tynwald colleagues.
Mr Baker argues that successful adjournment is just a case of politicians kicking the issue into the long grass, and told Manx Radio's Tim Glover he is really frustrated with the decision:
However, Chair of the Isle of Man Post Office Julie Edge told Dollin Mercer she welcomes the move:
In the House of Keys, there were 13 votes for the adjournment, and 10 against.
In the Legislative Council, there were six votes for, and three against: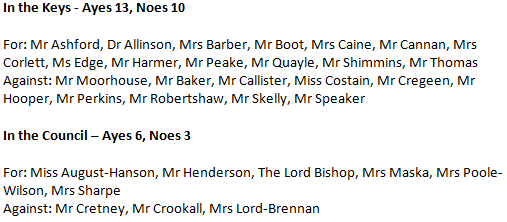 That means it will resurface in the June sitting of Tynwald, where, as the adjournment mover, Bill Shimmins MHK will have the right to speak first in the debate.