1.6% rise to bring in £500k
Tenants in public sector homes will pay out an estimated £28.5 million over the next financial year, after it was announced rents will go up by 1.9 per cent in April.
According to government forecasts, most of this income (£23.2 million) will come from local authorities, including Douglas Council, the Island's largest housing provider.
The rest (£5 million) will be collected by the Department of Infrastructure, which looks after its own stock, and sets rents annually.
The 1.9 per cent rise will mean an extra £500,000 will be raised in income for 2020/2021, compared to the £28 million in rent which has yet to be collected for 2019/20.
Infrastructure Minister Ray Harmer has stressed that 'many factors' are at play when rent-setting, with the latest rise understood to be an average of last year's CPI inflation.
Local Democracy Reporter Ewan Gawne asked him to explain how the 1.6 figure was arrived at:
Tenants pay their rents packaged together with rates, a charge which is levied to pay for local services.
Unlike rents, rates are set at different levels by each local authority, with urban areas usually paying more than rural ones.
All figures provided are only government estimates, with the housing landscape constantly evolving due to new stock being built, old stock being removed, and the changing number of void properties (those without tenants).
At present, there are around 6,200 homes in public ownership, which includes sheltered accommodation.
Rental income is reinvested in social housing through capital investment in new homes, refurbishment of older properties, or ongoing maintenance.
The total cost of funding the sector is hard to pin down, with fourteen separate providers, including the DoI, operating a wide range of stock in terms of amount, age and profile.
Officials at the department estimate that the day-to-day running of homes, which includes maintenance and administration, costs about £10 million a year.
The capital costs for constructing new homes are predicted to be an average of £18 million a year, with loans in the region of £190 million being paid off at a rate of around £11 million per year.
That puts the total cost at around £40 million a year including day-to-day operation, investment and loan repayments.
Major projects in the pipeline for 2020/21 include spending £4.8 million on Willaston apartments development and £3.2 million for School Hill in Castletown, with a number of smaller scheme also emerging.
But rent alone is not enough to cover the cost of funding the Island's public sector properties, with what's called a 'deficiency payment' required to fill the gap.
It's estimated £6.2 million will be needed this coming year to plug the shortfall.
You can see the estimated deficiency for 2019/20 in the table below: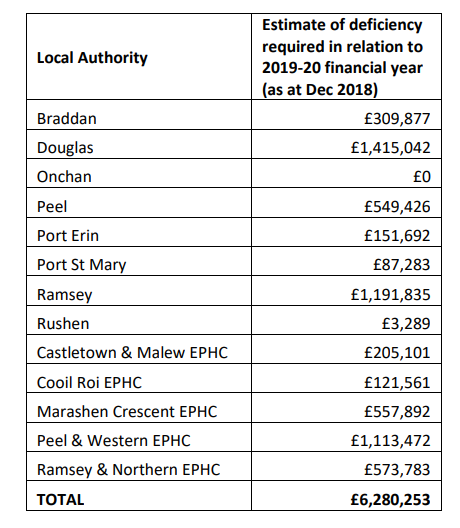 To fund this, the DoI pays any 'surplus monies' from its rental income to the Treasury, which in turn pays local authorities, who claim 'deficiency payments'.
It's estimated the department's surplus will be at around the £2 million mark, and the Treasury will have to pay out between £3 - 4 million.
In January last year, Mr Harmer revealed the deficiency payments for 2017-18 totalled £3.9 million.
You can see how much was paid out for that year in the table below: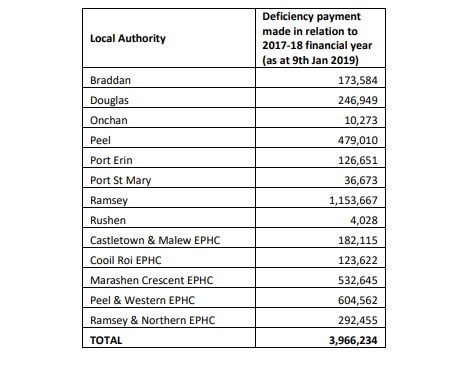 Onchan MHK Rob Callister has challenged the deficiency figures given by the department, which he believes are misleading.
The former Onchan commissioner also believes the department should be collecting more information on the incomes of those in social housing, and using it to set rents according to a tenant's ability to pay.
He explained his concerns in an interview with Tim Glover: