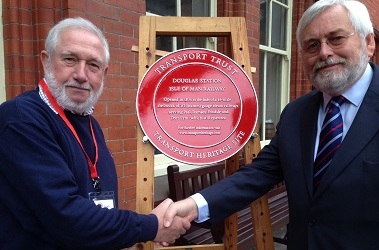 Isle of Man Railways is getting some very special new wheels this weekend (May 9th and 10th).
They're being presented with three Red Wheel plaques by the Transport Trust, which has brought more than 70 members to the Island to celebrate its 50th anniversary
The awards are the equivalent in railway terms to blue heritage plaques.
The first was unveiled by Director of Public Transport Ian Longworth at Douglas Station this morning.
He says it's a great honour for the railways - and the Island:
A second plaque will be unveiled by President of the Trust Lord O'Neill at the MER depot this afternoon (Sat) and at 11.15 tomorrow (Sun) a third will be unveiled at Laxey Station by local historian and tram enthusiast, Andrew Scarffe.

Picture: Stuart Wilkinson, Chairman of the Transport Trust (left) with Ian Longworth, Director of Public Transport.