Roy Higgins suffered cardiac arrest on 14 July
A man who suffered a cardiac arrest whilst swimming in the NSC pool has returned to thank the lifeguards and paramedics who saved his life.
81 year old Roy Higgins from Onchan, was swimming at the National Sports Centre on 14 July when he suddenly became ill.
Staff on duty at the time helped Roy out of the pool, performed CPR, and used a defibrilator to restart his heart.
Once in a stable condition he was taken to Nobles Hospital by emergency services.
On his return this week Mr Higgins said "It was really fantastic to meet the guardians of my life. Hopefully they are as pleased with the outcome as I am."
"I'm in awe of everyone involved and this is a very emotional time. I'd like to give my eternal gratitude to the full team, without their training and actions I wouldn't be here to tell the tale."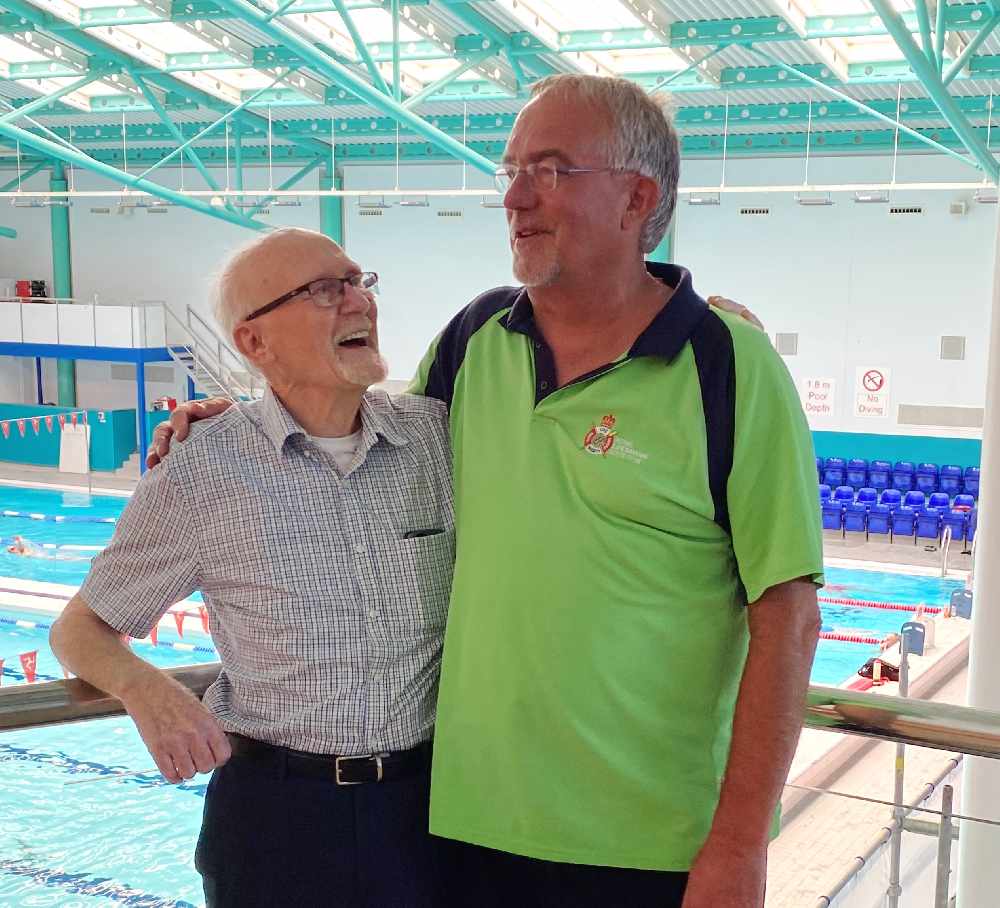 Pieter De Bruin (pictured on the right next to Mr Higgins), who used the defibrillator, said: 'I have been training with this equipment for 15 years, but this was the first time I've needed to use it for real.
'It was an amazing feeling to bring someone back to life and it was very emotional to see Roy again and meet his wife. They were both extremely thankful that we saved his life.'
Sean Crellin, Senior Paramedic Officer for the Isle of Man Ambulance Service, who responded to the 999 call, said: 'The NSC team did an incredible job and it is clear that they put into practice their regular first aid training.
'They correctly followed the defibrillator's verbal instructions and promptly delivered three shocks to Roy, which resulted in his heart beating again.'
'We are delighted that Roy has made a good recovery and has made contact with his rescuers, who without doubt saved his life.'
The incident happened 15 days after the NSC reopened its swimming pools following the lifting of COVID-19 restrictions, and all pool side staff had recently undertaken resuscitation training.
Carl Glover, General Manager, said: "I'm extremely proud of the response of our staff and must pay credit to the exceptional lifeguard trainers who train them to the highest standards."
"We never want to see an incident like this, but it is credit to our staff and the paramedics that there has been such a positive outcome."
"We wish Roy all the best and were delighted to welcome him back with his wife Maureen this week."
Dr Alex Allinson MHK, Minister for Education, Sport and Culture, said: "Suffering a cardiac arrest whilst in the water is one of the most dangerous things that can happen to a swimmer."
"All our pool side staff receive regular and rigorous training to prepare for such rare events. When a person goes into cardiac arrest, seconds count, and I am delighted this story has such a positive outcome."
When CPR is combined with the use of a defibrillator in the first few minutes, a person's chance of surviving a cardiac arrest increases by up to 75 per cent.