Letter sent to chief minister
A union is calling for the Education Minister Graham Cregeen to be investigated for 'institutional bullying'.
It's been confirmed to Manx Radio the Isle of Man branch of the National Association of Head Teachers has sent a letter to the chief minister and chief secretary seeking a 'formal investigation'.
The letter refers to meetings on Friday 5 April and Monday 1 July, where the conduct and words used by the minister to union representatives is questioned.
Both gatherings discussed terms and conditions, pay, and the Education Bill.
Yesterday in Tynwald, Garff MHK Daphne Caine brought forward a motion seeking a political separation between policy and service delivery.
She said "rumblings of discontent" in the Island's schools have now become "a deafening roar of dissatisfaction".
The move was not voted through but there was criticism of the education minister Graham Cregeen and the department from, in particular, MHKs Chris Robertshaw and Bill Shimmins.
Mr Shimmins went as far as asking the chief minister to consider if the education minister was fit for office over the summer recess.
You can hear Manx Radio's full report on those exchanges here.
In a post on social media responding to the subheading of that report, 'under-fire minister defends position', a representative of the Liberal Vannin Party said about Cregeen: "of course he will defend his position. I think that Ministers often defend the indefensible."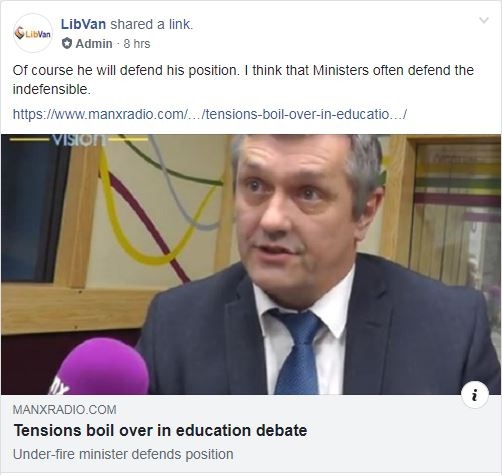 However, Lawrie Hooper MHK who is both a Liberal Vannin member and also a departmental member under Mr Cregeen has jumped to his support: