The average number of food parcels is now 215 a month
Busy festive season on the way for charity
The Isle of Man Foodbank is gearing up for winter.
With Christmas around the corner, the operation at Ballafletcher is due for a higher-than-usual influx of people looking to put food on the table.
All of the Island's major supermarkets: Marks and Spencer, Tesco, Co-op and Robinson's make surplus food donations throughout the year, as do Tynwald Mills, Rileys and most recently Shoprite.
But it is the public who are the Foodbank's biggest donor - support which director Neal Mellon says the organisation couldn't cope without.
On 3 December, a Tynwald Select Committee on Poverty is set to have the first of two sittings.
It will hear evidence from Mr Mellon, along with Michael Manning from Graih and Lieutenant Dylan Nieuwoudt and Derek Norton from the Salvation Army.
Ahead of it, Mr Mellon is reluctant to pass comment, but given that the number of Manx citizens coming to the Foodbank is growing, he says he will certainly be 'waving the flag for those in need.'
Food Parcels
Integral to the Foodbank's work, is the assembling and distributing of food parcels.
One food parcel equates to three meals a day for the week, and in order to get a picture of the demand, the Foodbank multiplies that number by all the days in the month, the result of which is considerable.
"For October we put out the equivalent of 10,300 meals. And when we did that with the first figures of the summer 19,000 meals in a month, my jaw dropped and I've been doing this for five years."
The Foodbank operation on the Island has come a long way since 2013, where it was delivering 150 parcels a year.
Having moved to its own building on the site of the Isle of Man Creamery in Ballafletcher, it now has another two banks in the north and south of the Island with a whole host of volunteers on the front line.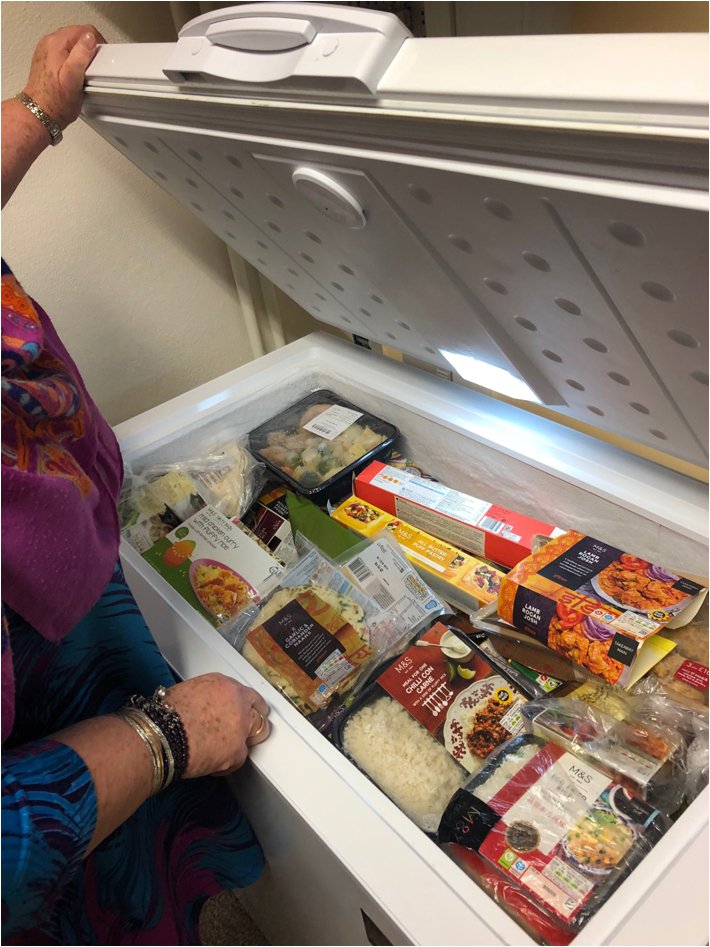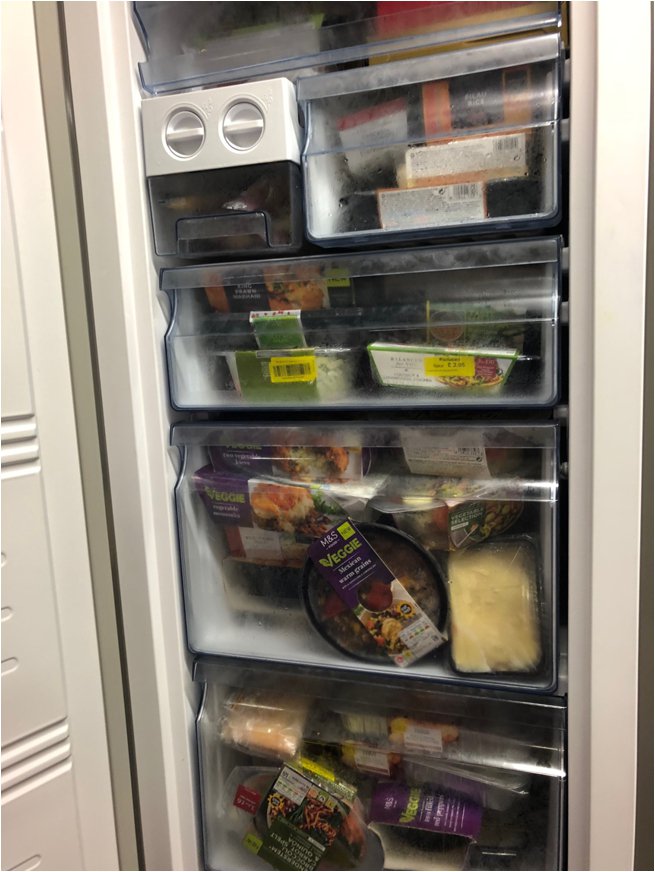 Over the summer, an appeal was made on social media to help replenish their stocks in the anticipation of 'holiday hunger', where families with children struggle to fill bellies, having relied on school meals during term time.
In June, July and August, the Foodbank saw a total of 308 adults with 336 children come to them for help.
It was the 'massive increase' Mr Mellon and the team expected and the average number of food parcels went up to 215 a month.
Heat or Eat?
Now with festive period nearly upon us, some families may be forced to decide between heating bills, groceries, and of course trying to budget for seasonal cheer.
"We're expecting to see a big spike. Not just in terms of people applying for support, but also in terms of all the food that gets donated.
"I still carry a significant community case load so I'll go out and see people in their homes. And, I sit in a lot of cold houses and visit people in houses where they've no plan to turn their heating on.
"I see more families layering up on their clothing rather than turning on the heating, but that issue of 'do I heat or do I eat' is major, for families for individuals, for the elderly, for young people starting out in their own independent life."
But fortunately he says, the social issue of fuel bills is also a concern to a number of third sector agencies of whom he reserves particular praise for the 'phenomenal' support in the Island from the Salvation Army.
"We see people employed and still not coping financially. We see people on benefits who are not coping and of course we see people who are not entitled to benefits who are in really dire circumstances.
"We don't have a lot of reattenders because our aim isn't about putting food in people's bellies, it's to get people who are in crisis back to being independent."
'Hand up rather than a hand out'
For the majority of its clients, six weeks of support is considered ample time to resolve the problems of those in crisis, which is the case for the 90% seeking support.
The supplying of food he says, is used as a 'bridge' to get people back to independence.
"It's very important to us as a charity that we don't become a toxic charity, that we don't generate a dependency on us, because if people start to come to us for food and become dependent on that then I might as well be handing out heroin or alcohol.
"When I listen to the radio and hear politicians talking about the Foodbank and their perception of it, they seem to have the same mantra, which is 'I'm going to find the answer and work out the root cause of the problem' and my response is always 'you can't'.
"There is not an answer because there is not a problem. When people come to see us their problems are complex and multifaceted.
"These people need time to be listened to.
"They often come in and open their soul to us and tell us their life histories. It's quite a privileged position to have this information shared with you. They can be massive and fearful stories.
"Once we have this information, we can work on the complexity of it, though it's not something we can do on our own."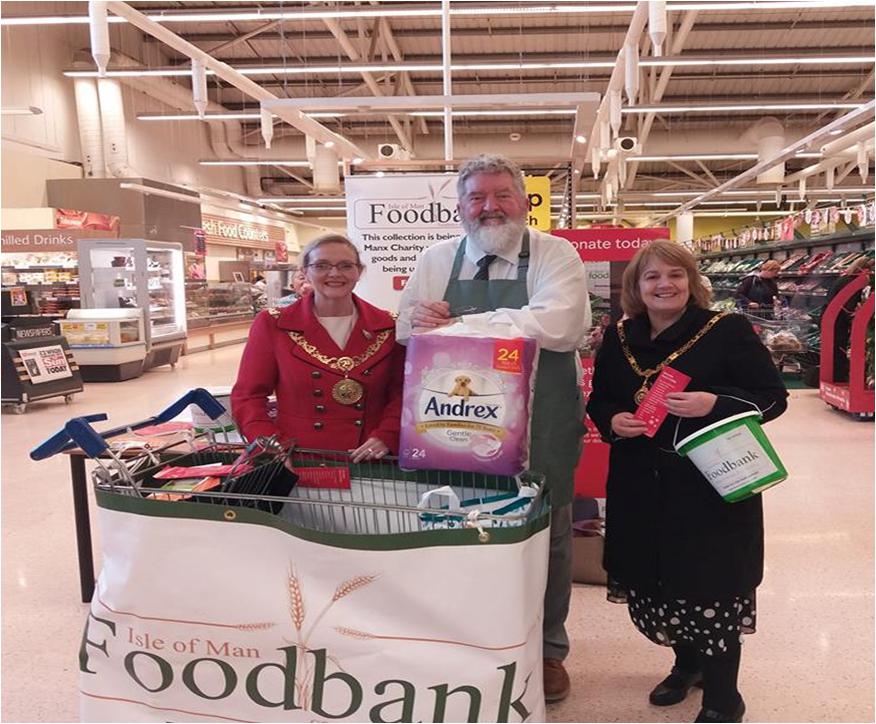 The Foodbank will set up a collection point at Tesco again this year from 30 November through to 1 & 2 December.
Also for the first time on the 6, 7 and 8 December they've been invited to set up stall in Marks and Spencer.
Press play to hear Manx Radio's recent visit to the Foodbank: